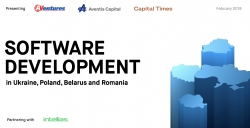 Kyiv, Ukraine, February 14, 2019 --(
PR.com
)-- With CEE tech talent being recognized as world-class, the regional export Software Development industry experienced a significant spike in mergers and acquisitions and private equity activity in 2018. As per
Software Development in Ukraine, Poland, Belarus and Romania report
issued by AVentures Capital, Aventis Capital, and Capital Times, the local investment leaders, the four countries represent a rapidly growing, highly competitive, and attractive source of talent for the global IT industry.
The IT services market benefits from the long-term upward trend due to increasing economic interdependence, willingness of the developed countries to move jobs offshore, and the growing necessity for digital transformation across enterprises. In turn, the three pillars depend on supply-demand disproportion of the tech talent. There is a gap between the required and available pool of developers.
The four countries of the CEE region can fill that gap on a global level. While Ukraine, Belarus, Poland, and Romania each present a fraction of the Chinese or Indian software development market, the four countries make up an enormously competitive hot spot exporting $13 billion worth of services in 2018.
Today, the above-mentioned four countries house over 200 universities and colleges graduating over 60 thousand IT specialists per annum. The salaries across the region have been constantly growing during the past decade, ranging from $500 for a Junior Developer up to $5,000 for a Team Lead. Overall, more than 700 thousand professionals form the regional competing force serving 470+ Software Development companies with 50+ employees each.
CEE outsourcing is growing much faster than the global average: 20-25% per annum vs. 5% globally. Coupled with superior profitability, this makes the sector a hot spot in M&A activity. The region had over 70 M&A transactions in the past 4 years, spanning 2015 through 2018.
"Execution and innovation of the successful software development projects are rooted in people's talent, and finding great talent still remains one of the industry's biggest challenges. Working with remote teams and building strong cultures across the globe empowers software development companies to be efficient. The CEE region is fertile in terms of highly-qualified tech professionals. The outsourcing market displays steady growth. It will continue to provide global companies with specialists and boost the development of the global tech ecosystem." - Yevgen Sysoyev, managing partner of AVentures
The Ukrainian export software development sphere is one of the fastest growing segments of the country's economy, with revenues exceeding $3.6 billion in 2017. The growth is attributed to the robust educational foundation which provides the industry with top-notch engineers.
Kyiv offers the highest level of salaries, along with the fiercest competition and access to the most abundant talent pool: Project managers in Kyiv are more expensive by about 22% than the country's average, Team Leaders by 19%, and Senior Project Managers by 3%. At the beginning of 2019 there are 245 IT service companies with 50+ employees and a total of over 750 IT service companies in Ukraine. The ample allocation of outsourcing talent hubs across the country is induced by a powerful network of technical universities supported by 14 IT clusters with 80 company members.
"The market we describe in this report has benefited from very good conditions for growth in the recent years, but also has had its fair share of challenges. Currently, as in all countries of the world, finding talent becomes more and more difficult. In these challenging times, acumen in business development is equally important as attracting and retaining employees. This drives costs up and leads to market consolidation." - Marcin Majewski, Managing Director at Aventis Capital
Poland has become an R&D hub for global companies operating in various industries. During the last two years Fujitsu, Nordea, Accenture, and many other companies located their offshore centers in Poland. Alongside its capital, Warsaw, medium-sized cities like Wroclaw, Krakow and Poznan are attractive locations for IT Service companies due to large talent pools, moderate costs, and coupled with a good quality of living, plus convenient road and air connections to Western Europe. Software development has the largest share in the ICT market, accounting for 35% of its value. IT services sales are to continue strong growth and are projected to reach EUR 14 billion in 2022 (2019-2022 CAGR 6.25%). Polish Software development companies offer a wide range of IT services from software development itself to additional activities such as IT operations and Digital Marketing. Though salaries of IT specialists in Poland show strong year-to-year growth, they are still around 46% lower compared to German remuneration.
"Along with other high-tech countries, Belarus is becoming a software development service provider with a well-established history for international and foreign client companies. All this indicates a significant potential of the country, which will become even more developed in the coming years." - Ilya Soloducho, Director at Capital Times Investment Company (Minsk)
According to the World Bank, Belarus is among the Top 10 of the world's leading countries for conducting business-friendly reforms. The IT ecosystem of the country is described as a dynamic combination of R&D centers, product companies, and investors. Belarusian universities provide 70 IT specializations for their students. Currently, 60.5% of IT professionals are engaged in software development outsourcing services. The size of salaries is growing mainly due to the high demand for skilled specialists caused by the annual increase in the number of IT companies and their size. At the end of 2018 the country's IT industry was ranked third with regards to job openings number. High-Tech Park (HTP) was established in Minsk and is the largest IT cluster in Belarus.
"Romanian IT specialists proficient in foreign languages have further supported the entry of global players into the country, where English is spoken fluently by most people and French is known by one in four IT graduates. This has led to a massive influx of foreign companies setting up their BPOs in Romania (organically or through acquisitions) and hampered the growth of domestic players due to strong competition for talented engineers." - Marcin Majewski, Managing Director at Aventis Capital
Software and IT Services sector turnover in Romania has been growing from 2014 to 2017 at a CAGR 13.4% and is expected to grow at a greater rate of 15.3%. The rapid development of the sector is driven mainly by foreign investment. There are around 185,000 specialists employed in the ICT sector in Romania. Since 2013, IT salaries in Romania have been increasing with CAGR of 11.5%. Still, an average Romanian IT specialist's salary is over 50% lower than that of a German peer. At present, the Software and IT Services Industry is served by approximately 96 thousand employees, and these numbers are expected to increase by to 125 thousand in 2021.
According to Software Development report, The Global IT services market value is expected to reach $843 billion by 2021. The fundamentals are viewed as very strong for continuous growth. The CEE software outsourcing sector is expected to double in terms of revenue within the next 5 years. The robustness of the CEE region as the cradle of technical talent is a solid foundation for the global Software Development industry, and its impact will grow with the passage of time.
About the report
The "Software Development in Ukraine, Poland, Belarus and Romania in 2019" report was brought by AVentures Capital, Aventis Capital and Capital Times in partnership with Intellias. The report provides industry and market insights based on an analysis of Software Development companies with 50+ employees located in the four countries. Not only does it include the analysis and country profiles, but also a long list of all companies with contact information and focus areas. The report will be officially published on February 11, 2019.
About AVentures Capital
Founded in 2012, AVentures Capital is a leading investment fund and M&A advisory firm focused on global companies that leverage R&D in CEE. AVentures Capital portfolio companies are mostly focused on the U.S. market and have raised follow-on rounds from international funds.
About Aventis Capital
Aventis Capital is a premier M&A advisory firm based in Warsaw, Poland. The company has extensive experience in working with international private equity investors and family-owned businesses. Aventis Capital is a partner of Globalscope, an international M&A advisory group.
About Capital Times
Capital Times is a financial advisory company that engages in investment banking, wealth management, and other financial services for institutional and private clients. Its principal executive offices are in Kyiv (Ukraine) and Minsk (Belarus) supported by 54 Globalscope partners on every continent in 45 countries.