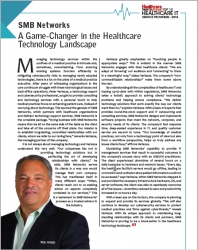 Hamden, CT, February 21, 2019 --(
PR.com
)--
SMB Networks LLC
is pleased to announce that the company has been named as one of Connecticut's top 10 Healthcare IT service providers of 2018 by Healthcare Tech Outlook Magazine. They have been featured in the December 2018 edition of HT.
SMB Networks LLC, led by Founder and Managing Partner, Peter Verlezza was honored to be invited for an interview explaining how SMB Networks is changing the game in the health care technology landscape. "Doing business with SMB Networks means that we sit on the same side of the table as the client and take all of the concerns off their plate. Our mission is to build long term, committed relationships with raving fans. Our knowledge of medical practices, not only from a technology point of view but also from a workflow perspective, helps us truly address any issues our clients face."
The full article can be read in
December's Digital Issue
of Health Tech Outlook Magazine.
Peter Verlezza is the Founder of SMB Networks LLC, a fast-growing IT services firm based in Hamden, CT and author of 3 books, "Hassle Free IT MD" and the 2 Amazon best-selling books, "The Tech Multiplier" and "The Business Owners Essential Guide To IT and All Things Digital."
For over 31 years, Peter Verlezza has been the architect of technology solutions that make sense for medical practices, small-medium size businesses and non-profits. His unique way of approaching challenges comes from a belief that it all starts with people. He currently serves on the board of the Connecticut Medical Group Managers Association.