DSGSS and NJ CAR Offer Dealers a Valuable Digital Compliance Tool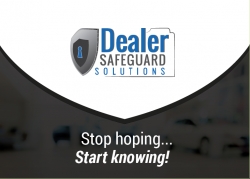 Dallas, TX, February 26, 2019 --(
PR.com
)-- DSGSS today announced a new strategic partnership program with the New Jersey Coalition of Automotive Retailers (NJ CAR) to offer its members a valuable digital compliance enforcement platform.
Dealers across the country continue to search for efficient ways to monitor the ever-growing number of compliance obligations, when it comes to safeguarding their customers' personal, non-public information. The industry requires both speed and transparency. Without the necessary checks and balances in place on every transaction, regardless of whether it starts in the showroom or over the web, the liabilities for non-compliance are substantial.
"One of NJ CAR's primary missions is to provide its dealer members with comprehensive training, education and products to ensure compliance with all relevant legal and regulatory obligations," said NJ CAR President Jim Appleton. "New technologies, like DSGSS' Digital Compliance Enforcement Program, go a long way towards ensuring compliance."
The DSGSS Platform assures that, from the time a customer enters the showroom through completion of a sale, each customer's personal, non-public information is controlled and safely secured in a "digital deal jacket." The DSGSS Platform eliminates those unwanted sales process shortcuts or inconsistencies that create concerns about unauthorized access to paper copies of driver's licenses, credit applications, and other private information.
"We are very excited with the opportunity to work with NJ CAR. Their investment in helping members navigate the maze of laws and requirements is compelling, and I am confident we will benefit the front-end operations of their members," said Doug Fusco, CEO of DSGSS. "DSGSS provides the technological 'glue' to assure all dealership processes are consistently enforced. Our clients say they sell cars faster and improve their customer experience."
Judy Vann Karstadt, CEO of JV Solutions LLC has been training and implementing the Safeguards Rule and the Red Flags Rule in dealerships since 2008. "I have conducted training for hundreds of dealership employees over the last 10 years. Compliance training is very important, but having the tool to insure a compliant sales process was hard to find. Dealer Safeguards is the solution to ensure the dealer's policies are followed on every consumer and customer who gives your salesperson Non-Public Personal Information in a safe, secure format. As the Director of Training for the NJCAR Academy I am thrilled about the strategic partnership of NJCAR and DSGSS."
"We have always viewed compliance as a priority," said Rob Sickel, Dealer Principal of Pine Belt Chevrolet of Lakewood. "Implementing the DSGSS platform in our dealership will provide us with an automated layer of immediate control and protection that is an absolute necessity."
Contact
Dealer SafeGuard SolutionS
Doug Fusco
972-740-8638
www.dsgss.com

Contact