Deanna Marie Label Presents "Stopping Traffic," a Fashion-Forward Fundraising Event Against Human Trafficking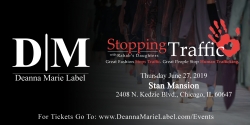 Chicago, IL, March 05, 2019 --(
PR.com
)-- Chicago-based designer Deanna Kuempel, founder of Deanna Marie (DM) Label, presents Stopping Traffic, a fundraising event to benefit local non-profit Rahab's Daughters in their fight to rescue, rehabilitate and reintegrate survivors of human trafficking, Thursday, June 27, 2019 at Stan Mansion, 2408 N. Kedzie Blvd. Chicago, IL 60647. All event proceeds will be donated to Rahab's Daughters.
Cocktails and hors d'oeuvres will be served, followed by a fashion show featuring the designs of Amy Onyx, Anastasia Chatzka, Cryptic Apparel and Deanna Marie Label, musical performances by rising pop star Jocelyn Garrett, and DJ Little Lisa of CATFIGHT, stand-up comedy from Chicago's own Kristen Toomey, guest speakers, including National Miss Buckeye State 2019 Abigail Davis, a silent auction and more.
"After learning about the prevalence of Human Trafficking in our own backyards I became determined to join the fight and raise awareness and I thought organizing this event was a good way to start," said Kuempel.
"It is imperative that we are able to prevent youth from being drawn into the cycle of Human Trafficking, and that we have the ability and resources to educate parents and children on what to look for to better prevent others from being drawn into this horrific industry," said Sam Wijeyakumar, founder of Rahab's Daughters and a survivor of human trafficking.
Tickets are being sold through Eventbrite and include general admission and VIP seating. To be a sponsor or donate to the silent auction or VIP goodie bags, please contact Deanna Kuempel at deannamarie@deannamarielabel.com.
Current sponsors: Cassie & Dee, Corinne Marie Photography, Creations by Beth, Dynamic Professional Women's Network, Leopardo Construction, Relaxing Tees, Schaeffer Photo Studio, Warren Brewer Marketing & Design and Wicked Vision Photography.
Current silent auction sponsors: American Income Life, Bella Vie Medical Spa, C3 Chiropractic, Honey Butter Fried Chicken, Journey to Wellness, Pavlis Furs, Sanders Fine Portraits and Vacations beCAUSE.
Current goodie bag sponsors: Materials & Wit.
"There is a significant cost of each survivor when it comes to their rehabilitation. This cost includes their medical treatment, psychological health treatment, emotional guidance, spiritual counseling, as well as providing for transportation, education, and more," said Wijeyakumar. "It is only with the assistance of contributions that we can continue this vital work. Contributing to the fight is not just donating money; it also includes volunteering and helping spread awareness."
Contact
Deanna Marie Label, LLC
Lisa Cisernos
630-743-1081

Contact