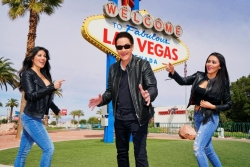 Las Vegas, NV, March 19, 2019 --(
PR.com
)-- Jimmie Lee - The Jersey Outlaw and his hit comedy reality TV show, "Dangerously Funny," recently filmed in Las Vegas. Jimmie and The BanditoGirls took to the streets in Sin City and delivered high octane over the top street comedy, that caught everybody off guard. The Jersey Outlaw has branded with his unique brand of street comedy that incorporates ad-lib off the cuff uncensored skits.
Jimmie took to the streets of Vegas, including stops to The Strip, Boneyard Museum, Fremont Street and more. The Outlaw absolutely kept all his fans on the edge of their seats, with his dynamic persona and delivered one liners, zingers, insults and more. Nobody was safe and everyone was a target. And Jimmie Lee hit the bullseye.
Jimmie Lee is the talk of the town and press and media are on his trail.
Jay Cohn from The Las Vegas Sun says, "It's pure pandemonium and mayhem, no holds barred, uncanny, unpredictable, zany and purely entertaining when Jimmie hits the streets. So, lock the doors and call the cops, Jimmie Lee has arrived."
Dangerously Funny is now on Season 3 and rated one of the hottest comedy shows on reality TV and Amazon Prime. Jimmie's comedy TV show has taken him all over the country, including stops to South Beach, Las Vegas, Beverly Hills, London, Atlantic City, New York, and more. Planned venues this year include New York City, Comic Con, Atlantic City, Hollywood, and more.
Don Hurley from The Atlantic City Press keeps asking The Outlaw the secret for the show's success. Jimmie Lee says, "I am doing something very unique and different that people aren't doing anymore; old school comedy 80s style, that's politically incorrect, plus I do it on the streets to the unknowingly public so it catches everyone off guard, its very high energy and very captivating."
Don Hurley also adds, "The Jersey Outlaw is definitely a character and goes to extremes to entertain and keep everybody on the edges of their seats. The kid's got charisma and a touch of old school class. In this crazy world of entertainment, The Garden State can take pride to one outlaw of a good nature. That's Jimmie Lee and he's one of a kind."
Jimmie's comedy is an old school Vegas style, that combines elements of Rickles, Dangerfield, and Red Foxx, with a unique style and smooth delivery with some Jersey attitude. He has been performing since 2013 and has performed stand up in major clubs throughout the country.
For more on Jimmie Lee, go to: Jimmie Lee - The Jersey Outlaw; YouTube Channel, Facebook; Jimmie Lee and Instagram; realjerseyoutlaw.