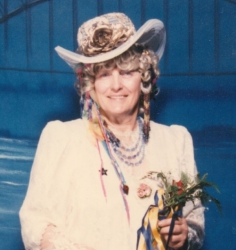 Niles, IL, March 27, 2019 --(
PR.com
)-- Barbara Koenig-Pfannkuche of Niles, Illinois has been commemorated as a Prominent Business Leader for 2019 by Strathmore's Who's Who Worldwide for her outstanding contributions and achievements in the field of engineering.
About Barbara Koenig-Pfannkuche
Barbara Koenig-Pfannkuche is retired after 40 years from her position as an Electronic Engineer. She spent most of her career with the Chicago Board of Education teaching electricity, electronics and appliance and computer repair. She has also taught electronics engineering to college students and inmates in the jail system. She specialized in drafting and design.
Born in Chicago, Illinois, Ms. Koenig-Pfannkuche obtained an A.S. in Electronics from DeVry University in 1957. She was honored as the first woman to attend that University. She obtained a B.S. in Industrial Education Electronics from Chicago State University in 1975.
Recently, Barbara was honored on the famous Reuters Billboard in Times Square in New York City. She was also recognized as a Top Ten Women of the Year and as a Top Executive, both for 2019.
Over the course of her career, Barbara has worked for Pierce Wire Recorder, Chicago Aerial Industries, Hammond Organ, Union Thermal Electric, Victor Adding Machines, C.P. Clare and E.P.L
In her retirement she enjoys travel, farming, gardening and snow skiing.
Barbara is especially proud of her son, Christopher E. K. Pfannkuche, who is running for Cook County State's Attorney. A Chicago native, Mr. Pfannkuche is an experienced, life-long prosecutor, teacher and public interest servant. He has served as a criminal prosecutor for three different government agencies handling all manner of criminal and felony cases with the highest professionalism. Christopher attributes his success to his grandparents, Gene and Benjamin Koenig and his Uncle, Richard Koenig.
For further information about Christopher E. K. Pfannkuche, please contact
www.votechristopher.com
.
About Strathmore's Who's Who Worldwide
Strathmore's Who's Who Worldwide is an international advertising, networking and publishing company based in Farmingdale, New York. They are proud to be able to satisfy their clients and continue to have repeat clientele due to their longevity and pride in their products and services. The Owners strive to connect business professionals to enhance their contact base and networking capabilities so they can get the acknowledgment and publicity within their industries and beyond. The Strathmore family has been providing these valuable services for over two decades. They target executives and professionals in all industries to be featured in their publication and on-line directory. Industries include business, law, education, healthcare and medicine, fine arts, IT, government, science, real estate, entertainment and many more accomplished fields. Professional profiles are listed in an annual hardcover journal and in a detailed, searchable database on the website www.strww.com.