HIDN® Model of Health Restoration Published by Paducah's Dr. Michael Winters
Dr. Winters, the founder of the HIDN® Model of Health Restoration, has announced that he is opening up his modern care program to new patients in the Paducah, Kentucky area. HIDN® healthcare is focused on naturally identifying and addressing long-standing health issues and improving health.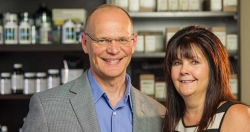 Paducah, KY, March 20, 2019 --(
PR.com
)-- As the founder of Winters Wellness Center - Chiropractic Redefined in Paducah, Kentucky, Dr. Michael Winters, DC, has spent a significant portion of his 35 year career chasing after some of the most often misunderstood and overlooked cases that he can find. While many in the healthcare community strive to specialize in a particularly well documented disease or set of symptoms, Dr. Winters has instead set his sights on scenarios that other doctors have labeled "lost causes." His fiercely loyal patients are among the first to declare that he is willing to go beyond traditional concepts of care and do what it takes to get answers that change lives. That dogged pursuit of the "whole picture" of healthcare is what led Dr. Winters to announce the completion of his HIDN® Model of Health Restoration, which is now available to a limited number of new patients at his office in Paducah, Kentucky.
HIDN® represents a specialized set of healthcare examinations and protocols intended to incorporate neurological and metabolic factors in the assessment of a patient from a functional healthcare perspective. Functional healthcare represents a growing number of providers who seek to better understand and identify root causes of a wide range of symptoms and maladies, from seemingly random bouts of pain to chronic conditions. Limitations from the functional medicine viewpoint may result in the inability to identify and resolve the issue without proper neurological assessment and activation. Likewise, functional neurology assessments may struggle to properly incorporate metabolic factors, therefore missing other "pieces of the puzzle." By bringing together these two viewpoints, Dr. Winters is able to "cast a wider net" in order to identify and resolve patients' chronic and complex issues.
The HIDN® acronym reflects the four areas of primary examination: hormonal, immunological, detoxification, and neurological. The protocols are rooted in natural healthcare and do not require prescription medications or surgeries. Effective analysis in the four categories of testing have resulted in making significant changes in the lives of Dr. Winters's patients. Some of his case studies sound like fairy tales, but the stories are true and the changes are well documented.
Dr. Winters is now opening up his HIDN® program beyond his existing patients in an effort to help more people to properly identify and resolve long-standing health issues. This program is ideal for individuals who want to to actually improve their health, not just manage their existing conditions. In order to learn more about his care and the HIDN® Model of Health Restoration, contact Winters Wellness Center at (270) 554-2141 or online at WintersWellness.com/HIDN.
Contact
Winters Wellness Center
Dr. Michael Winters
270-554-2141
https://www.winterswellness.com

Contact