Metro Safety Offers Multiple Workplace Safety and First Aid Training Courses
Courses offered by Metro Safety ensure safety and health in the workplace.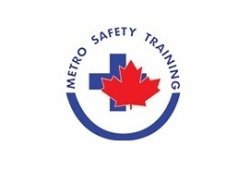 Coquitlam, Canada, March 21, 2019 --(
PR.com
)-- Metro Safety has been offering first aid training courses to workers since 2008 and has helped numerous businesses equip their workers with basic safety and aid skills.
Their services and courses are not restricted to workplaces but are also extended to colleges, etc. These courses have helped spread awareness, education of the risks involved, and an increased emphasis on maintaining safety as a first priority in workplaces.
A spokesperson for the company stated, "All Canadian employers are legally required to have a first aid kit on their premises. These can make a huge difference in case of emergencies. First aid doesn't save life. Administrating it in time can also reduce recovery time."
Metro Safety provides first aid services to businesses that intend to invest in their employees. Their advanced courses like Occupational First-Aid Level 2 and Level 3 last for 36 and 72 hours respectively.
The tests also comprise of written and practical tests. People who pass the tests are able to perform all emergency first aid techniques and skills according to the standard set by Work Safe BC.
The spokesperson further stated, "We have been offering first aid training to Canadians for the past 11 years. During these years, countless firms have approached us for help. The nature of the companies ranges from businesses that involve welding in confined spaces to regular IT offices with computers being the only machines around. Therefore, we offer training programs which address all sorts of workplace safety issues."
Metro Safety Training's decision to educate the youth in
first aid training
and workplace safety programs is a promise for a better and stronger future.
The company has been offering these courses for the past 11 years now. Equipped with the right knowledge, they take corrective actions to mitigate any risks of serious injuries.
While the basic courses do not require workers to have prior training, some of the advanced courses are built on tests before training can begin.
About Metro Safety
Metro Safety is a leading workplace safety and first aid training provider based in Coquitlam, Canada. Metro Safety has maintained a decade of professional first aid training, with an impressive clientele benefiting from their courses.
They offer courses in Burnaby, Vancouver, Coquitlam, Richmond, and Surrey. Their timings are flexible and the packages various, giving their clients a number of options to choose from.
Email: info@metrosafety.ca
Phone: 604-521-4227
Address: 914 Sherwood Ave.
Coquitlam, BC V3K 1A6, Canada
Contact
Metro Safety Training
Jordan Fleischauer
604-521-4227
https://metrosafety.ca/

Contact