CEO Jared Poniatowski Speaks Critical Conversations at National Retail Top Leaders Meeting Fort Worth, Texas
National Retail Top Leaders Meeting Speaker Jared Poniatowski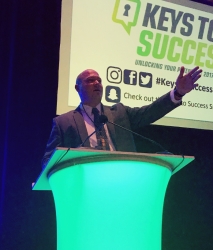 Charlotte, NC, March 20, 2019 --(
PR.com
)-- "Critical Conversations not only drives the bottom line of a Business. It can also help develop leadership core. When it comes to developing leaders versus developing managers, critical conversations make a world of a difference. Not just telling an employee what to do but steering the message to them so they can best understand the reasons within why a business must function a certain way. This is probably one of the main reasons why our office stands out amongst others. Our New Age Family has a very strong bond together professionally and personally. I have the best team I had ever have in a long time and I couldn't be more grateful to have them in my company to watch them grow individually," Poniatowski said.
Jared Poniatowski, CEO and Founder of New Age Marketing was the only CEO from the Charlotte Area asked to speak at the meeting. Poniatowski, Director of Human Resources Mariel Cody, Assistant Director Zachary Fowler and four of their Account Managers traveled to attend their Annual Keys to Success Conference Meeting in Dallas, Texas. It's not a secret how New Age Marketing ranks to be one of the best Marketing Firm in the Country. A company that has a very strong cultural values and structure to set up success for their employees. The organization has sent over 20 Top leaders to the meeting. New Age is posed for a huge expansion into sever office this year into the Carolinas and Southern Pennsylvania.
New Age Marketing was founded in 2014 in Huntington, WV. Poniatowski has since opened 15 offices in total scaling the business model along the east coast. The expansion into Charlotte, NC in 2016 has since fueled further expansion doubling the size of the firm. With the launch of 2 new brands into the Charlotte Market this year alone will give them the ability to double once again. This makes New Age Marketing the fastest growing firm in the Charlotte Area. They have recently opened their doors to new hires for the next few months to help expansion. Applicants are encouraged to apply on their website www.newagemarketinginc.net.
Contact
New Age Marketing Inc.
Mariel Cody
704-449-7313
newagemarketinginc.net

Contact