JetPack Aviation's Flying Motorcycle Delivers Personal Flight at 150mph
Designer Yacouba Galle Creates Clean, Elegant Speeder Aesthetic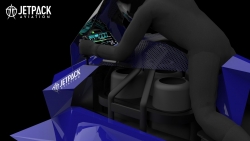 Van Nuys, CA, March 21, 2019 --(
PR.com
)--
JetPack Aviation
, the leader in personal vertical-takeoff-and-landing aircraft has unveiled the Speeder, the world's first jet powered flying motorcycle. Working closely with Switzerland based Yacouba Design Studio, the Speeder presents a market disrupting solution for a small, piloted or autonomous flight vehicle.
"Our company has been breaking barriers at the leading edge of personal VTOL flight for over a decade," said company CEO David Mayman. "The Speeder was conceived with a primary mission: Save Lives. Our vision is a safe, easy-to-fly machine that will reduce response time for first responders and military rescue. The aircraft had to be compact, ergonomic, and operable with a minimal amount of training. JPA pioneered the advanced engineering but we still needed an industrial designer who understood the interface between operator and high performance technology. Yacouba Galle was the perfect designer for this project."
The brief was challenging. Design a totally new personal flight machine powered by four computer controlled turbine engines. Provide a simple pilot prep system for rapid deployment and landing. Maintain a low rider profile to minimize drag. Ensure landing ability on a wide range of terrains. And enable fast field-based re-configuration for passenger or freight hauling.
Galle, a former pilot and multi-faceted designer with a strong passion for motorsports approached the assignment with his trademark open mindedness and vision. The result is a stunning blend of aesthetic and practical design. Contrary to the upright seating position of a ground based motorcycle, the French designer oriented the Speeder pilot in a prone attitude arched over the engines to achieve an aerodynamic man/machine profile. Pilots of any size can easily climb into position and be ready for flight with little need for custom adjustment. Sleek winglets provide additional stability while maintaining a minimum footprint enabling take off and landing in places difficult for helicopters and full winged craft. Articulated landing legs automatically self adjust for uneven or debris strewn surface conditions. Mission specific freight pods can be rapidly added or removed in minutes.
The Speeder was designed for military and industrial use. But due to the stunning Yacouba Galle design and consumers' pure joy of speed, retail demand has been high. Bowing to this demand the company will build and is now taking
pre-orders
for a limited run of 20 personal-use Speeders.
Specifications:
Speed: exceed 150 mph
Altitude: exceed 15,000 ft
Fuel: Standard Jet A1 fuel or kerosene
For more info about Yacouba Design Studio:
http://www.yacouba.com/
Contact
JetPack Aviation
David Mayman
+1 (805) 262-7874
www.jetpackaviation.com

Contact