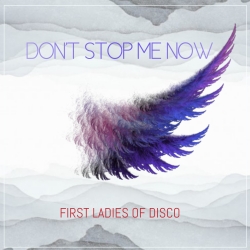 New York, NY, March 26, 2019 --(
PR.com
)-- New single by First Ladies of Disco, "Don't Stop Me Now," celebrates the power of women.
Two-time Grammy-nominated Martha Wash ["It's Raining Men" (Weather Girls), "Gonna Make You Sweat (Everybody Dance Now)" (C+C Music Factory)] has released a new single by First Ladies of Disco called "Don't Stop Me Now" through her boutique label, Purple Rose Records and DO-KWA Productions. The song is written and produced by Zach Adam and executive-produced by James Washington and Martha Wash. Ms. Wash has been working on the recording for several months, while juggling a hectic schedule of worldwide performances and the taping of her successful video show, "10 Minutes with Martha Wash."
Released March, 25, 2019, "Don't Stop Me Now" is an energized, hands-in-the-air anthem that explores the power of women and, inclusively, anyone who fights to rise above the daunting challenges of our world. First Ladies of Disco is an ensemble of legendary vocalists who initially gained famed during the disco era, including Martha Wash, Grammy-nominee Linda Clifford ("If My Friends Could See Me Now") and former Chic vocalist Norma Jean Wright ("Dance, Dance Dance"). First Ladies of Disco previously reached the Top 10 of Billboard's dance music chart in 2015 with the smash hit "Show Some Love" (also penned by Zach Adam). "The ladies are limitless," says Zach. "They are women who have lived and have something to say." Inspired to come together by the book "First Ladies Of Disco" by James Arena, the group has been touring to sell-out crowds throughout the US and has appeared on ABC, FOX, SiriusXM and many other media outlets.
The spirit and energy of "Don't Stop Me Now" (which includes floor-filling remixes by John LePage, Moto Blanco and Scotty Boy/Block & Crown) is a reflection of Ms. Wash's mission to spotlight the finely-honed talents and seasoned power of heritage artists in a contemporary musical setting. SiriusXM's Larry Flick says, "Don't Stop Me Now" is "First Ladies of Disco at their most powerful and inspiring!" Likewise, Graeme Watson, Editor of Out In Perth Magazine, describes the track as "a great, uplifting song that immediately inspires and motivates!" Beatselector Magazine editor Joseph Wensell says, "Gigantic in beautiful instrumentation...a phenomenal chorus sing along will give you goosebumps...and the official video is pretty cool too!"
"Don't Stop Me Now" by First Ladies of Disco is available on iTunes, Amazon, Spotify, Tidal and most digital music platforms. The supporting video can be seen at:
https://youtu.be/rFgr-GNyzow
For further information:
James Washington
A&R/Purple Rose Records
purpleroserecords@gmail.com