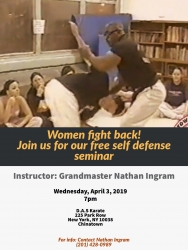 New York, NY, March 31, 2019 --(
PR.com
)-- In light of recent attacks on women, Shidoshi Nathan Ingram, the founder of D.A.S. Karate Federation, is conducting a free self-defense seminar on Wednesday April 3, 2019.
Shidoshi Nathan Ingram, with over 45 years of martial arts training, former 16-time bare-knuckle champion, Martial Arts Hall of Fame inductee and New Yorker of the Week by NY1 for his rape prevention self-defense classes, was awarded the key to the City by Mayor Koch for single-handedly stopping a bank robbery at the age of 25 years old in 1981.
"I couldn't let that punk get away with it and what counts is that he didn't." - Quote from New York Times by Nathan Ingram.
"Terrific," by Mayor Koch; source: New York Times.
About D.A.S Karate Federation
The Deadly Art of Survival Karate Federation, Sho Ku Jitsu fighting system, originated from traditional Karate roots and incorporated five different martial arts styles and boxing. It was originally a Shotokan and Kung Fu based school but because of the limitations that most styles have, other styles had to be incorporated. Those styles are: Goju ryu, Northern Praying Mantis, Shotokan Karate, Ju Jitsu and Looang Fu Pai Kung Fu. Shidoshi has degrees in every one of the styles mentioned. Shidoshi is also a level 2 boxing coach for USA boxing. The concept of D.A.S. Karate Federation, founded in 1973 by Shidoshi, was the creative concept of Shidoshi with the idea of teaching troubled inner city youth to survive the terrors of gang activity, drugs and street violence during the early 1970's. Our school teaches them discipline, self control, confidence and extraordinary conditioning. This has been our tradition for five generations and has become our legacy.
D.A.S Karate Federation
225 Park Row
New York, NY 10038
Public Relations
Cynthia Sepulveda
917-331-2025