ClariLegal Announces Chuki Obiyo as Chief Client Officer
Obiyo brings the right combination of energy, experience, and execution to drive the mission forward.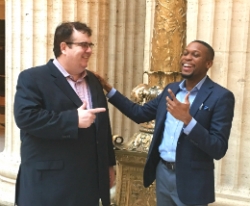 Chicago, IL, April 02, 2019 --(
PR.com
)-- ClariLegal, a revolutionary vendor RFP and management platform for legal services, is pleased to announce the appointment of Chuki Obiyo as Chief Client Officer. In his new role, Obiyo will work with ClariLegal Founder and CEO Cash Butler to improve business outcomes for corporate legal departments and law firms using the ClariLegal platform.
"We are succeeding in our mission to help corporations and law firms connect their projects with preferred vendors for the whole range of litigation support and legal operations in a way that saves time and costs and unlocks hidden value," said Cash Butler. "Chuki will play an integral role in driving our mission forward by focusing on client needs and values."
"I am energized about the opportunity to help our clients meet and exceed their business goals while working alongside a great team here at ClariLegal," said Chuki Obiyo. "Prior to joining the team, I heard great things about the ClariLegal mission. It is a mission that aligns with my passion to motivate professionals to be business enablers within their own organizations. Business enablement is about value alignment, not just cost savings, and the ClariLegal platform activates the right value for all of our external stakeholders - the client's business, corporate legal team, law firms, and vendors – all in one secure marketplace platform."
Obiyo brings more than a decade of experience working directly with leaders at Fortune 500 companies and law firms to help them improve organizational performance and transform business operations. Prior to joining ClariLegal, Obiyo served as Director at Morae Global Corporation, where he helped corporate law departments improve operations by leveraging strategic staffing and technology solutions on-demand. Prior to that position, he led a business development initiative at LinkedIn Corporation which configured the LinkedIn Sales Navigator tool to support law department staff augmentation and law firm client acquisition strategies. Prior to working at LinkedIn Corporation, Obiyo worked at The Corporate Executive Board Company, where he consulted with senior executives to identify and implement best practices within their corporate functions. He is a graduate of Northwestern University Pritzker School of Law and The University of Texas at Austin.
For more information on ClariLegal or to see the platform in action, visit
www.ClariLegal.com
.
About ClariLegal
ClariLegal is an award-winning, cloud-based preferred vendor management platform for legal services that improves business outcomes while reducing overall costs. We match corporations and law firms with preferred vendors through a fast and complete RFP and bidding process. The platform benefits both the clients and the service providers. ClariLegal is privately held and headquartered in Ann Arbor, Michigan, and is powered by a network of advisors, developers, and contractors. For more information, visit ClariLegal.com or follow us on LinkedIn and Twitter.
Contact
ClariLegal
Chuki Obiyo
312-753-9295
clarilegal.com/

Contact