The Next Generation "IrisVision 3.0" Launched to Help the Visually Impaired and Legally Blind See Again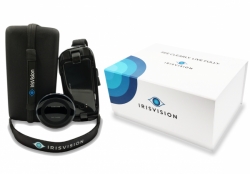 Pleasanton, CA, April 07, 2019 --(
PR.com
)--
IrisVision
, a California-based startup, recently released "IrisVision 3.0," an updated version of a revolutionary low vision solution introduced a couple of years ago. This new release, being referred as "The Next Generation IrisVision," packs a handful of innovative solutions, further easing out the visually impaired and the legally blind in seeing the world around them.
Regarded as one of the best and the most comprehensive vision care systems for the visually impaired and legally blind, the best got even better. With the release of IrisVision 3.0, thanks to the collaboration between Dr. Frank Werblin, Chief Scientist and inventor on the project and Ammad Khan, the CEO of a thriving mobile app development company based in Pleasanton, California.
"I've been working in the area of vision research and vision restoration for 40 years, most recently as Professor of Neuroscience at UC Berkeley. Much of that work has focused on restoring vision to the blind. But I sensed a need for serving a much larger community of the visually-impaired: those who still have some remaining useful vision," said Dr. Frank Werblin, talking recently to the "Medgadget," the famed weblog about medical technologies.
He further added, "I teamed up with our CEO Ammad Khan, who at the time was CEO of a very successful mobile app development company in the Bay Area, to develop, refine, and commercialize our wearable low vision aid. Together, Ammad and I are on a mission to bring this innovative technology to the millions of people around the world who might benefit."
The release of IrisVision 3.0 brings them one step closer to achieving their collective goal of helping millions suffering with low vision conditions, bringing various advanced and user-friendly features to their solution, such as:
IrisVision Assistant: A voice enabled personal assistant, which can be enabled by simply saying "Start Iris," adding a whole new dimension to going hands free.
IrisReader: A proprietary feature based on advanced OCR techniques, IrisReader reads text to the user straight from a book, document, menu, label or even a newspaper.
Photo Gallery: The Photo gallery is another one of the advanced features showcased in IrisVision 3.0, helping the user take snaps with these electronic glasses on, saving them in the gallery for viewing later.
Video Player: IrisVision 3.0 also includes a video player designed to help users stream their favorite videos while connected to a WiFi, also supporting voice-enabled search.
With the IrisVision 3.0, millions of
low vision
patients will be able to interact and integrate into their community with added comfort, ease and more independence. The new features showcased not only unlock new and exciting opportunities for the visually impaired but also for practitioners, eye specialists and ophthalmologists to test and stretch the limits of low vision.
IrisVision is an FDA registered Class-I medical device, leveraging a powerful combination of virtual reality technology from Samsung and innovative custom software, developed in collaboration with some of the United States' leading experts at the Johns Hopkins optical clinic.
Contact
IrisVision
Malik Usman
1-855-207-6665
https://irisvision.com

Contact