Approyo Named to the ChannelE2E Top 100 Vertical Market MSPs: 2019 Edition
Fourth-Annual List Reveals Leading MSPs in Healthcare, Government, Financial Services, Manufacturing & More.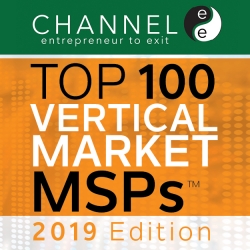 Milwaukee, WI, April 30, 2019 --(
PR.com
)-- Approyo, a leading enterprise SAP HANA Solutions Provider, has been named to After Nines Inc.'s ChannelE2E Top 100 Vertical Market MSPs list and research (http://www.channelE2E.com/top100) for 2019. The annual list and research identify and honor the top 100 managed services providers (MSPs) in healthcare, government, financial services, manufacturing, legal, not-for-profit and additional vertical markets.
The Top 100 Vertical Market MSPs rankings are based on ChannelE2E's Q4 2018 and January 2019 readership survey, and ChannelE2E's vertical market industry coverage. MSPs featured throughout the list and research leverage deep vertical market expertise to drive annual recurring revenues (ARR) in specific market segments.
This year's research revealed several key MSP market trends. Among the Top 100 Vertical Market MSPs for 2019:
- Honorees generated a combined $699.1 million in vertical market annual recurring revenue (ARR) for 2018, up from $277.3 million in 2017. The surge involved organic growth combined with aggressive merger and acquisition (M&A) activity.
- Honorees are managing nearly one million devices.
- The most successful vertical market MSPs are zeroing in on financial services and healthcare, while manufacturing, legal and not-for-profit vertical activities are accelerating.
Approyo was ranked number 23 among the top vertical market MSPs in the Technology industry.
"It is honor to be recognized as a top Managed Service provider by ChannelE2E," says Chris Carter, CEO of Approyo. "This achievement continues to validate our success in the SAP and Cloud marketplace."
"After Nines Inc. congratulates Approyo on this year's honor," said Amy Katz, CEO of After Nines Inc. "Through a vertical market focus, top MSPs are generating stronger profit margins and increased customer loyalty, while increasingly attracting acquisition and investor interest from peer MSPs and private equity firms."
Find the online list and associated report here: http://www.channelE2E.com/top100
Approyo has been providing solutions powered by SAP HANA®, such as the latest version of SAP S/4HANA®, in the cloud for the last three years. Approyo built an entire platform using the best solutions in the market, helping companies move to SAP HANA quickly and benefit immediately.
About Approyo:
Approyo offers products and services that include upgrades, comprehensive remote operations/managed services, consulting, hosting and implementations and cloud services. Approyo differentiates itself by offering scalable managed solutions built on SAP HANA for organizations of all sizes. Headquartered in Milwaukee, WI and offices in throughout North America, Europe and South America, plus partners around the world, Approyo has the capability to support global organizations and their applications.
For additional information e-mail us at info(at)Approyo.com, call 404.448.1166, or visit us on the web at http://www.Approyo.com.
About After Nines Inc.
After Nines Inc. provides timeless IT guidance for strategic partners and IT security professionals across ChannelE2E (www.ChannelE2E.com) and MSSP Alert (www.MSSPAlert.com). ChannelE2E tracks every stage of the IT service provider journey - from entrepreneur to exit. MSSP Alert is the global voice for Managed Security Services Providers (MSSPs).
Contact
Approyo
Kyle Ackerman
262-894-1037
www.approyo.com

Contact