Rose Medical Center Designated an Aetna Institute of Quality® Bariatric Surgery Facility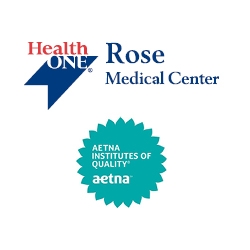 Denver, CO, April 30, 2019 --(
PR.com
)-- Rose Medical Center has been designated an Aetna Institute of Quality® Bariatric Surgery Facility for treating individuals living with morbid, or extreme, obesity. This achievement recognizes the high quality of care that Rose has been offering, providing a new lease on life for our bariatric surgery patients.
"We are honored to receive this designation from Aetna. As the leading bariatric program in the state, we have a dedicated commitment to our patients to making this program comprehensive," said Ryan Tobin, president and chief executive officer at Rose Medical Center. "We believe that weight-loss is a team effort and work alongside patients and their support systems to ensure our cutting-edge surgical procedures are paired with resources that help our patients achieve and maintain life-changing results."
Aetna makes information about the quality and cost of health care services available to its members to help them make informed decisions about their health care needs. In line with this goal, Aetna recognizes hospitals and facilities in its network that offer specialized clinical services for certain health conditions. Facilities, such as Rose, are selected for consistently delivering evidence-based, safe care.
Rose offers a full range of weight-loss surgical procedures including Roux-en-Y Gastric Bypass, Adjustable Banding/LapBand, Sleeve Gastrectomy, Laparoscopic Loop Duodenal Switch, Gastric Plication, Band-Over-Bypass and the non-surgical balloon procedure. Using these procedures in conjunction with informational seminars, classes, support groups and exercise networks, Rose bariatric patients are set up for long-term success. To learn more, visit RoseKnowsWeightLoss.com.
About Rose Medical Center
Well known as a Denver institution and a 9th Avenue landmark since its founding in 1949, Rose Medical Center has earned its reputation as Denver's "Baby Hospital" while becoming a leader in comprehensive women's care, orthopedics and total joint replacement, heart and vascular care, weight-loss treatment, cancer care, surgical services, internal medicine and emergency care. Rose Medical Center is proud to be a part of the HealthONE system of hospitals that earned the ranking as the #7 corporate philanthropist in the metro area and was the only hospital system ranked in the top 10. HealthONE contributed more than $1.5 million in 2018 and supports more than 150 organizations through cash and in-kind donations.
With origins in Jewish teachings, traditions and community, Rose's founders built this hospital to "serve the need of every creed." By offering a high level of expertise and service across all disciplines, Rose is a destination hospital, attracting patients from throughout Colorado and around the world. Learn more at RoseMed.com, FB: @RoseMedicalCenter, Twitter: @RoseMedical and LinkedIn: Rose Medical Center.
Contact
Rose Medical Center
Julie Hogan
303-320-2694
rosemed.com

Contact