Former Harlem Globetrotter and Streetball Legend Dies at 79
Former Harlem Globetrotter and Streetball Legend Jumpin' Jackie Jackson passed away on Saturday May 4th 2019; he was 79.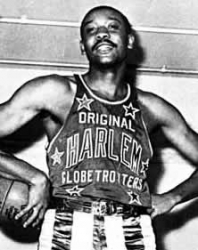 Brooklyn, NY, May 07, 2019 --(
PR.com
)-- Jackson was one of the first streetball legends in the Rucker Playground Basketball Tournaments in New York City in the early 1960s. He went on to a 20-year career with the Harlem Globetrotters, earning his nickname by allegedly snatching a quarter from the top of a basketball backboard on a bet.
Jackson was born in New Bern, North Carolina, and his family relocated to Brooklyn, New York when he was a child. He played for the Boys High School basketball team alongside baseball player Tommy Davis and future Basketball Hall of Famers Lenny Wilkens and Connie Hawkins. It was while playing for the Virginia Union University basketball team, however, that Jackson's leaping ability took off. He averaged over 20 rebounds per game and was known for jumping over the defender's head on fast breaks. He was the CIAA freshman of the year in 1958.
During the summertime, he played on the Brooklyn All Star team in the Rucker Park Tournaments, along with his childhood friend Connie Hawkins and New York Knick Walt Bellamy. He built his playground status by dunking over Wilt Chamberlain and also blocking his finger roll in the same game.
Jackson was selected number 41 in the 1962 NBA draft, but was personally recruited by Abe Saperstein, owner of the Harlem Globetrotters, to play for his team. He played with the Globetrotters for 20 years with Marques Haynes, Meadowlark Lemon, and Fred "Curly" Neal.
Jackson was a member of Boys High Hall of Fame, Virginia Union Hall of Fame, CIAA Hall of Fame, Rucker Tournament Hall of Fame, and Harlem Globetrotters Hall of Fame. Virginia Union also retired his number.
There is a book and a documentary on his life and memoirs "The Legend of Jumpin Jackie Jackson" releasing later in 2019 through Adelphi Publishing and Media Group.
He died peacefully in his Brooklyn home of natural causes.
Jackson is survived by his wife Jean Jackson, son Robert Jackson, daughter Christy Agard, brother Randolph Jackson, and five grandchildren.
Contact
Carl Agard
347-581-1611

Contact