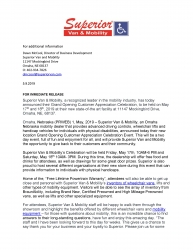 Omaha, NE, May 09, 2019 --(
PR.com
)-- Superior Van & Mobility, an Omaha Nebraska mobility dealer that provides advanced driving controls, wheelchair lifts and handicap vehicles for individuals with physical disabilities, announced today their new location Grand Opening Customer Appreciation Celebration Event. This will be a two day event, full of fun and enjoyment for all, and will provide Superior Van and Mobility the opportunity to give back to their customers and their community.
Superior Van & Mobility's Celebration will be held Friday, May 17th, 10AM-6 PM and Saturday, May 18th 10AM- 3PM. During this time, the dealership will offer free food and drinks for attendees, as well as drawings for some great door prizes. Superior is also proud to host several different organizations at their new store during this event that can provide information to individuals with physical handicaps.
Home of the, "Free Lifetime Powertrain Warranty," attendees will also be able to get up close and personal with Superior Van & Mobility's inventory of wheelchair vans, lifts and other types of mobility equipment. Visitors will be able to see the array of inventory from BraunAbility, including Brand New, Certified Preowned and High Mileage Preowned vans, as well as lifts and other specialized equipment.
For attendees, Superior Van & Mobility staff will be happy to walk them through the showroom and highlight the benefits offered by different wheelchair vans and mobility equipment – for those with questions about mobility, this is an incredible chance to find answers to their long-standing questions, have fun and enjoy this amazing day. "The staff and I have been looking forward to this day for weeks. This gives us a chance to say thank you for your business and your loyalty to Superior. Please join us for some fun in the sun and refreshments. We are looking forward to seeing you!" Michael Patterson, Superior's General Manager.
Superior Van & Mobility provides wheelchair accessible vehicles, mobility seating options, hand controls, Scooter and Wheelchair Lifts, and a variety of other driving aids, all of which meet Federal Motor Vehicle Safety Standards (FMVSS). Sales, service and rental options available. Each location helps and supports local community groups on disability awareness issues. Superior Van & Mobility now has eleven sales and service centers throughout Indiana, Kentucky, Eastern Tennessee, Louisiana and Nebraska. For more information, please visit www.superiorvan.com.