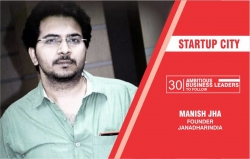 New Delhi, India, May 13, 2019 --(
PR.com
)-- Startup City India magazine applauds Manish Jha as a fastest growing business leader in political and election campaign management. As a thought leader Manish Jha, based in Noida, has rapidly grown and established milestones in a tough segment, political consultancy and election strategist. He has served more than 100 individual candidates and major political parties in managing elections.
Mr. Manish Jha, Political Consultant and Founder, Janadhar India, said, "It gives immense pleasure to be recognised as most ambitious business leader to follow by Startup City India. As a political consultant and election strategist, my primary goal is to make the politician understand necessity of it. I deploy my team at the constituency and booth level to execute all designed campaigns and monitor it real time in the War-Room. "
As a political consultant, Manish's primary task is to assist politicians and political aspirants in handling their profile and end-to-end political and election campaigns while constantly evolving and embracing growth. The services and solutions that Manish provide have a wide range which helps their habitué to optimise voters outreach and turn voters to their court.
Janadhar India:
Manish Jha, a seasoned political consultant and election strategist in India has been demonstrating innovative strategies to win elections. He and his team has helped individual political aspirants and national and regional political parties in managing successful political marketing campaigns across India. He is a part time panellist on major media channels like Lok Sabha TV, Bhaskar News, , Surya Samachar, News World, Kanak News, News 18 and Kalinga TV. Manish has also been featured in top newspapers in India and abroad like Daily Pioneer, Dainik Bhaskar, Deccan Chronical, New Indian Express, Hindustan Times, Bangkok Post, Samaya, and many more. His seeking spirit has helped him to travel more than 600 towns and cities to understand political pulse. Besides this he's also known as a great speaker, he's a good team manager and analyst.
About Startup City India:
Startup City, an autonomous body of The CEO Magazine, is India's leading monthly business magazine for startup and young entrepreneurs printed and published from New Delhi. Startup City strives to promote startup culture, entrepreneurial activities and innovative business concepts by making an open platform for exchanging views, opinion and ideas. The magazine supports startups and entrepreneurs to enhance their growth graph.