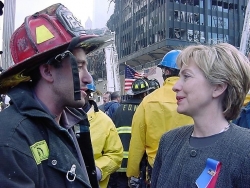 Great Neck, NY, May 16, 2019 --(
PR.com
)-- Michael Weinstock announces run for New York's Third District Congressional Seat.
Campaign Website: www.weinstockforcongress.com
Michael Weinstock, a former prosecutor and longtime volunteer firefighter, has announced that he is running for Congress. If elected, he will become the first 9/11 firefighter to serve in Congress and the first openly gay person to represent New York City in Congress. Weinstock is challenging Tom Suozzi, for the Democratic nomination in New York's Third Congressional District, which includes parts of Nassau, Queens, and Suffolk counties.
Weinstock is a native of Great Neck and was a volunteer firefighter and Emergency Medical Technician (EMT) for twelve years. On the morning of 9/11, Weinstock was working as an Assistant District Attorney, in Brooklyn's Special Victim's Bureau. After looking out the window and witnessing the massive amount of smoke pouring from the World Trade Center, Weinstock ran outside and waived down a passing ambulance.
He arrived at Ground Zero while both towers were still standing and was unloading emergency medical supplies from the ambulance, when the first tower came crashing down. Although the ambulance was crushed and destroyed, Weinstock escaped physical injury. His best friend, and brother firefighter, Jonathan lelpi, was killed in the line of duty. In the days that followed, Weinstock returned to Ground Zero and worked on the pile of rubble, with his fellow firefighters.
On the first anniversary of 9/11, Weinstock was flown to Wellington, New Zealand, where he was honored by Helen Clark, the Prime Minister of New Zealand. He was also reunited with two 9/11 victims he treated.
Michael Weinstock is a graduate of St John's Law School, located in Jamaica, Queens. During his first year of law school, the dean suffered a heart attack and Weinstock saved the dean's life. Upon graduation, Weinstock was hired as an Assistant District Attorney, in Brooklyn. He asked to be assigned to the Special Victim's Bureau, where he protected thousands of women and men, who were the victims of sexual abuse and domestic violence. In 2017, New York State Assemblyman Tony D'Urso asked for Michael Weinstock's help, trying to find the Jewish family, that his parents rescued from the Nazis, during WWII. Weinstock used the skills he developed as a prosecutor to confirm the story of heroism. He also located the Jewish family and organized an emotional reunion, in Italy. This past February, Pope Francis invited the D'Urso family and Weinstock to the Vatican. The Pontiff told Weinstock that he was quite impressed by his volunteer work on behalf of Holocaust survivors as well as his service as a rescue worker.
Michael Weinstock is a life-long Democrat and he is challenging Tom Suozzi, for the Democratic Nomination. In 2018, Suozzi wrote a letter of support, for disgraced politician, Gerard Terry, after Terry was convicted of failing to pay his income tax for fifteen years. Shortly after Suozzi wrote his letter of support, Terry was caught practicing law without a license, which is a felony.
According to Weinstock, "I was thunderstruck, when Congressman Suozzi decided to pull strings arid get his friend released from jail. In addition to tax evasion and practicing law without a license, Gerard Terry has a long history of pressuring young people for sex, in exchange for government jobs. I spent most of my career putting sexual predators in jail. Congressman Suozzi likes to write letters and get them out."
If elected, Weinstock will not only become the first openly gay person to represent New York City in Congress, he will also become the only openly gay man serving in elected office on Long Island. (1) "I hope to work really hard and become a role model for all New Yorkers," he said.
Weinstock announced his candidacy with the release of a video. The title of the video is "Hip Kosher" and it can be found at the campaign website: www.weinstockforcongress.com
(Photo Caption: Michael Weinstock speaking with Senator Hillary Clinton, at Ground Zero, on September 15, 2001)
(1) According to Jim Conenello, the Vice President of Communications, of the LBT Network; an association of Nonprofit organizations serving the LGBT community of Long Island and Queens. (See: https://lgbtnetwork.org/content/about-network)
Contact: Justin Chae: (516) 655-1070, jchae@meridiancampaigns.com