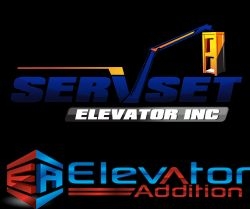 Sacramento, CA, May 24, 2019 --(
PR.com
)-- Here are a couple of statistics you might not think about every day: there are 900,000 elevators in service in the United States, and these elevators make 18 billion passenger trips each year. That means each passenger averages four trips per day, 250 days per year. That's a lot of elevator rides. While most people don't give it a second thought when the elevator doors open up, it's something that's on Patrick McBride's mind every single day. He's the President of Servset Elevator Inc. (Servset) in Sacramento, a specialty contractor providing installation of modular elevators, elevator environmental services and elevator interiors and sill refurbishing.
A first-generation elevator mechanic who started his career with Otis Elevator Company in 1986, McBride became a trailblazer when he launched his own company in 2011. "There are a lot of family-owned and multigenerational businesses. Ours is the first generation. I'm the first and only in my family in the elevator trade," he says. In fact, while working at his first job, McBride studied the product and found what would be a key component in his own company: modular elevators.
Why modular? "It solves a problem that other systems don't," McBride says. In fact, modular construction is catching on for good reason. It causes less site impact and offers better quality control because it's manufactured off-site. "The other thing that's good is when you're readying your building for an elevator, the elevator is being manufactured - so you have parallel processes going on," McBride comments. "It saves money from the point of site impact and labor, and you get an elevator faster."
Next Stop: Innovation
With a degree in electronics and computer technology, McBride has always been an innovator. He and his team developed something called the "No Man Lift." It's a cost-saving solution that allows them to install a modular elevator - minus its interior - early in the construction process. Then, the construction crew is able to use the elevator as a personnel hoist during construction. When the project is nearing completion, the team takes the elevator back and installs the interior. This can be an incredible benefit for contractors, who often budget a significant amount of money for a man-lift. This way, they can use the modular elevator as a personnel hoist for considerably less.
To augment its specialty contracting services, Servset is also a licensed general contractor, enabling the company to provide turnkey services. Patrick admits there's a lot of mystery surrounding elevators and their installation. By providing general contracting services, he's able to help customers demystify the process.
Since elevators often move more air in a building than an air conditioning system, Servset's environmental services help keep indoor air clean. The lowest part of a building has pollutants that can seep out of the ground, so maintaining and sealing pits and cleaning hoistways improves indoor air quality.
Technological innovations, as well as the nature of the industry itself, provide plenty of variety, ensuring that no two days on the job are the same. McBride is just fine with that. "A good elevator guy can do anything, from carpeting to concrete to steel erections, so it's very dynamic. It's a very good skill set to have," he says. Another bonus: he and his team also work in different types of buildings - from manufacturing facilities and office buildings to nuclear power plants.
The First Story
Not only does the Servset team love to create cost-saving solutions for their customers, they also pride themselves on their reputation. "I tell my customers that every contractor has a horror story about an elevator guy," McBride says. "But we're not one of them." He and his team go out of their way to ensure that their customers, as well as other contractors, have a positive experience.
In return, their customers offer high praise. McBride and his team added a four-stop elevator to the Shingle Springs Health & Wellness Center on the campus of the Red Hawk Casino. "The building was originally built with one elevator. They added another one through conventional means, and we added a third modular elevator," McBride says. "The client tells me it's the best running elevator in the building."
Whether it's a need for an additional elevator or a new elevator, buildings are constantly being repurposed and upgraded. Whatever the need, the Servset team has maintained one constant: they have a perfect record of state conveyance inspections. "We've probably installed over 100 new elevators and have not failed a new conveyance inspection," McBride remarks.
The Future is Looking...Sideways
McBride has remained at the forefront of the industry by staying nimble and evolving with his customers' needs. He's obtained domain names for different aspects of his business, including ElevatorAddition.com and ElevatorRemoval.com.
This forward-thinking approach is crucial, as technology is evolving faster than ever, creating all sorts of possibilities. Thanks to these advances, what used to go up and down now goes sideways, too. A rope-free elevator system called MULTI allows traffic to flow through buildings horizontally as well as vertically. But, McBride is ready for this and for whatever else is on the horizon, because, he says, "I have constant curiosity, and I always ask the question, 'Why?'"