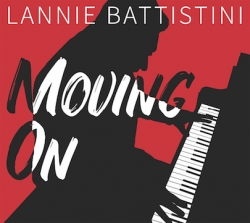 Tampa, FL, May 21, 2019 --(
PR.com
)-- Recording jazz artist, composer, arranger, pianist, and producer, Lannie Battistini is back in the spot light with the release of his latest album "Moving On," out May 17, 2019. This album consists of eight original Jazz fusion compositions and one Jazz standard as a tribute to Duke Ellington which was arranged by Battistini. This album consists with the collaboration of eleven musicians and four vocalists in which most are from the Tampa Bay area including 6X Grammy Nominee Guitarist, Mark Vincent and world renown Percussionist Gumbi Ortiz, Al Di Meola's Percussionist.
Battistini's latest album, "Moving On" was inspired during the four years he spent at the Berklee College of Music in Boston, Massachusetts where Jazz was predominate. He learned how to fuse different types of music genres within his arrangements, and so during that time he began to compose and arrange mainstream jazz and fuse with his Latin root rhythms as noted in his three previous albums released between 2009 and 2014, which have notable strong Afro-Cuban and tropical fusions.
"It was exhilarating to go back to the music that inspired me so long ago and re-writing these arrangements. I love Jazz and fusing it with a Latino sound regardless of how understated it may sound within the arrangements; just puts the listener in a happy feel good mood," Battistini shared as he took a step back from his busy production schedule. Almost five years after his last Latin Jazz album release, Battistini further stated that he feels like he is moving on to another phase of his Artistic career which was what inspired the name of this new album.
Battistini was born and raised in Puerto Rico. At the age of 23, he graduated with a BA from the Berklee College of Music in Boston in arranging and composition with a minor in film scoring and piano as his main instrument. Later he toured and recorded an album with 3X Grammy Award® winner and 2X Latin Grammy Award® Winner Latin American Artist, Olga Tañon. This album won a Grammy Award® and a Latin Grammy Award® Nomination for Best Tropical Merengue Album. This same album went platinum and was on the top Billboard® charts for several weeks.
Fast forward over three decades, Battistini continues working full time in the music industry staying active as a dual voting member for the Grammy Awards® and Latin Grammy Awards®. For the past 14 years, he owns and operates the Hands in Motion Music Productions and Marketing firm in Brandon, Florida where he is the master producer for Recording studio, and directs/teaches at his music school [HIM Music School] at the same location. Battistini and his band, Hands In Motion Jazz Ensemble continue performing at Jazz venues, concerts, festivals, theaters and private events. For more information about the artist, his latest album release, credits and liner notes, visit:
LannieBattistini.com/epk
.