Rose Medical Center Partners with Solis Mammography to Deliver Excellent Patient Experiences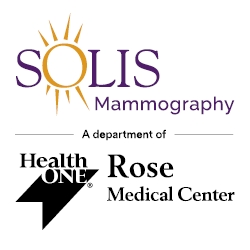 Denver, CO, May 22, 2019 --(
PR.com
)-- Solis Mammography, the nation's largest independent provider of breast screening and diagnostic services, is pleased to announce a partnership with Rose Medical Center to make breast health screening and diagnostic services more convenient across the greater Denver area.
The center, located on the Rose Medical Center campus at 4700 E. Hale Pkwy, Suite 450 in Denver, CO, offers a full range of screening and diagnostic services including 3D mammography integrated with SmartCurve™ technology, designed and clinically proven to deliver a 93% more comfortable mammogram, with exceptional accuracy. 3D technology is the most accurate screening tool available today and increases early detection of breast cancer by as much as 54 percent, allowing radiologists to find cancers as early as stage zero.
This Solis Mammography center also provides diagnostic mammography, computer-aided detection, breast ultrasound, stereotactic breast biopsy, ultrasound-guided biopsy and bone density scanning. Patients can enjoy real-time online scheduling (24/7), in-center tablet registration and receive emailed results, typically within 24 to 48 hours.
"We are thrilled to have reached this phase in our partnership with Rose Medical Center, which combines the best of Rose's clinical excellence and Solis' signature patient – centric services and focus on preventative care," said James Polfreman, CEO and president of Solis Mammography. "Together, we will bring expanded, unparalleled breast-dedicated care to the communities across the Denver region."
"We listened to our patients about what they want in a breast center: comfort, state-of-the-art technology, communication and clinical excellence," says Ryan Tobin, Rose Medical Center President & CEO. "Our breast-dedicated radiologists will continue serving our breast center patients, so Rose continues to bring the clinical excellence, but Solis' reputation for exemplary patient experiences is why we chose to partner with this fantastic company. We are very excited for what this will bring to our patients."
In early summer, Solis Mammography will also open a brand-new breast imaging location in the Rose Center for Health in the Eastbridge area of Stapleton, a large neighborhood on the site of the former Stapleton International Airport, now a burgeoning site of thousands of homes and businesses.
Solis Mammography's comprehensive and signature Peace of Mind Mammogram™ experience promises:
· State-of-the-art screening services and technologists: Advanced 3D mammograms with exceptional clinical accuracy paired with 100 percent breast specialized radiologists and technologists.
· Convenient and welcoming centers: Spa-like atmosphere to provide a warm and welcoming experience.
· Patient-first mentality: Focused on providing quick results for screening mammograms and a heritage of continuous improvement and innovation on behalf of our patients.
About Rose Medical Center
Well known as a Denver institution and a 9th Avenue landmark since its founding in 1949, Rose Medical Center has earned its reputation as Denver's "Baby Hospital" while becoming a leader in comprehensive women's care, orthopedics and total joint replacement, heart and vascular care, weight-loss treatment, cancer care, surgical services, internal medicine and emergency care. Rose Medical Center is proud to be a part of the HealthONE system of hospitals that earned the ranking as the #7 corporate philanthropist in the metro area and was the only hospital system ranked in the top 10. HealthONE contributed more than $1.5 million in 2018 and supports more than 150 organizations through cash and in-kind donations.
With origins in Jewish teachings, traditions and community, Rose's founders built this hospital to "serve the need of every creed." By offering a high level of expertise and service across all disciplines, Rose is a destination hospital, attracting patients from throughout Colorado and around the world. Learn more at RoseMed.com, FB: @RoseMedicalCenter, Twitter: @RoseMedical and LinkedIn: Rose Medical Center.
About Solis Mammography
The nation's largest independent provider of breast screening and diagnostic services, Solis Mammography has been dedicated to helping women achieve and maintain breast health and peace of mind for more than 30 years and more than 5 million procedures. As a pioneer and innovator in 3D mammography and as an architect and early advocate for SmartCurve, Solis Mammography has stayed at the forefront of breast health by continuing to deliver a better experience and a more accurate mammogram to the generations of women we serve. To book an appointment online or learn more about Solis Mammography, visit www.solismammo.com.
Contact
Rose Medical Center
Julie Hogan
303-320-2694
rosemed.com

Contact