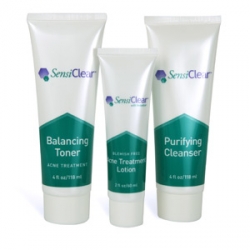 Menlo Park, CA, March 30, 2008 --(
PR.com
)-- SensiClear is basking in glory after the SensiClear Acne Treatment system won the Beauty Olympics conducted by Second City Style online magazine. SensiClear Acne Treatment system captured first place in the category of Oily and Acne Prone Skin Product category.
"We were surprised and excited to find out that we had won," said Charles Benard, Chief Marketing Officer for Mission Scientific.
Second City Style (SCS) is a high fashion, high-energy online magazine for and by stylishly savvy women. It was originally created from hundreds of surveys completed by women who provided invaluable feedback on everything from how to wear the latest accessories to where to find the hottest trends.
"I can't profess my love for SensiClear enough!" said Natayle Henry, beauty editor for Second City Style. "It is by far the most amazing line I've ever put on my face! Not only did this product dry pimples on the very first day of use, but it has kept my skin flawless. The compliments haven't stopped pouring in. This is a must for anyone who has mild to severe acne. It's a miracle in a bottle... well three tubes."
As a beauty editor Natayle first heard about SensiClear when she tuned into the Janice Dickinson Modeling Agency Show (on The Oxygen Network) and caught the SensiClear 28-Day Model Challenge. After seeing the amazing results, she figured that there must have been a camera trick or maybe they were using the product for longer than 28 days. She even thought perhaps the producers of the show put the models through rigorous facials and sent them on several trips to the best dermatologists in the nation. She thought that it was just too good to be true.
"I would have assumed that the only way to cure blemishes that bad would be to go through an extensive program prescribed by a dermatologist (i.e. Acutane and/or antibiotics while also using copious amounts of creams and lotions). Being the beauty buff that I am, I had to find the truth. I was now enamored by SensiClear and for the first time began thinking about using a system other than Proactiv.
When she ordered the SensiClear products she said that they sat on her table for a few days without being opened, because she had been a longtime Proactiv user. Now, on her Second City blog, Natayle says adieu to her former skincare favorite. "Proactiv, we've had a wonderful relationship. But we both have to realize that we have reached the end. We can still be friends, but I've now found a new love and have moved on to be with SensiClear."
About SensiClear –
www.sensiclear.com
SensiClear Acne Treatment System consists of three easy to use products: a purifying cleanser, a balancing toner and the revolutionary blemish-free treatment lotion featuring the exclusive patented ingredient Retextra.
About Mission Scientific, Inc.
Mission Scientific Skincare is venture backed and headquartered in Menlo Park, CA. The company is dedicated to developing leading edge skin care solutions utilizing the latest patented technologies.
About Second City Style Magazine
With current readership now expanding globally, Second City Style recently launched their blog to compliment the magazine and provide readers a resource for up-to-the-hour information. Published by Editor-in-Chief, Lauren Dimet and Managing Editor, Carol Calacci, Second City Style is a consumer-driven publication.
###