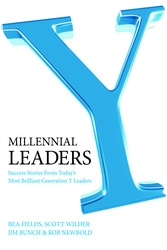 Southern Pines, NC, March 31, 2008 --(
PR.com
)-- Leadership Consultant and Generation Y Expert, Bea Fields, recently spoke to the Bellevue, Washington, Chamber of Commerce Women in Business Forum on the topic of Leading at the Speed of Y: Attracting, Developing and Leading the Millennial Leader. Along with Scott Wilder, Jim Bunch and Rob Newbold, Fields is the co-author of Millennial Leaders: Success Stories From Today's Most Brilliant Generation Y Leaders. (
http://MillennialLeaders.com
).
The forum was attended by over 150 women business leaders from the Bellevue and Seattle, Washington areas. Bellevue was recently named as the number one place (out of 100) in the nation to live and launch a business for 2008 by Fortune Small Business. FSB chose Bellevue over others in the top 10 including Georgetown, TX; Buford, GA; Marina del Rey, CA; Bethesda, MD; Portland, OR; Denver, CO; Charlotte, NC; Fort Worth, TX, and Franklin, MA.
Fields is the President of Bea Fields Companies, Inc. She is also the Chairman Elect for the Moore County Chamber of Commerce in North Carolina. "As someone who has providing leadership consulting and training services to over 800 leaders worldwide and has also served on the Board of Trustees for my local Chamber of Commerce, I know the challenges small business owners and Chambers are facing in attracting and leading Generation Y," said Fields.
Fields' mission with this presentation was to provide the women business leaders of Bellevue the answers to their most pressing questions about this next generation while providing them with strategies on how to best manage, motivate and communicate with them. "Based on the large number of questions and comments, I believe this mission was accomplished," said Fields. "Gen Y leadership is a very hot topic, and I believe I provided the audience with a fresh perspective on the challenges Generation Y is facing and how we as can lead the charge in working with them to support them in being successful in the future."
Millennial Leaders brings readers a unique, close up look at the people responsible for the cutting edge of social and business trends. The authors offer interviews with some of the most successful Generation Y experts and leaders from today's business world.
For more details about Millennial Leaders: Success Stories from Today's Most Brilliant Generation Y Leaders, visit http://MillennialLeaders.com or contact Bea Fields at (910) 692-6118.
###