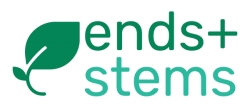 San Francisco, CA, June 04, 2019 --(
PR.com
)-- Visit Ends+Stems today from any device and get two weeks of thoughtful and practical zero-waste recipes for free here:
www.EndsandStems.com
With Ends+Stems new dynamic web app users can save their profile and settings, access their recipes and see their interactive grocery list in real time from any device. Users can even see how they are helping the environment. Chef Alison has created a waste calculator that shows users how much food they have saved each week with her thoughtful meal plans broken down into pizza slice measurements. Users can expect to save the equivalent of a large pizza from the trash each week with Ends+Stems meal planning.
Food waste at home has been identified as one of the top drivers of climate change with 40% of all food produced in the US getting wasted. Beyond the environmental impact, 82% of families that Ends+Stems surveyed said that deciding what to cook was one of their biggest daily stressors. Ends+Stems is successfully taking the guesswork out of "what's for dinner?" while giving users peace of mind that they are actively helping the environment. 100% of people in the Ends+Stems web app beta said that after a few months they found themselves reducing food waste in other parts of their lives.
"Meal planning is often the hardest part of eating smarter for home cooks," said Chef Alison, founder and CEO of Ends+Stems. "I'm equipping you with a comprehensive grocery list that sets you up for the week with delicious, simple meals and zero waste. I'm super excited to share the new web app with the world. It looks beautiful and is fun to use!"
Pricing and Availability
Ends+Stems web app is available from any web browser at www.endsandstems.com. For just $12.50 monthly or $9.50 a month for the year, users can access Chef Alison's acclaimed meal plans. Meal plans arrive on Friday mornings with everything you need to shop and cook throughout the week.
Ends+Stems is an official member of 1% for the Planet, with Ends+Stems sales going to the nonprofit Food Shift.
About Ends+Stems
Alison Mountford is the Founder and CEO of Ends+Stems, a meal planning service designed to reduce household food waste and stop the effects of climate change. Alison has 15 years of experience as a professional chef and entrepreneur. Her first business, an early model in meal delivery, was sold in 2015. She is a 2018 Rubicon Waste Fit Champion, has been featured on podcasts, and advocates for reducing waste.
All trademarks and product names are the property of their respective companies.