Arek Zasowski Wins Best Romance Short Award with "Call Me" at the 2019 Silicon Beach Film Festival in Los Angeles, CA
When asked about what advice Arek could give to inspire young beginning actors, Arek Zasowski replies: "It may sound quite simple - take initiative, reach out to other actors and create. Do not wait for anything to happen to you. If you have an idea that you are truly passionate about, work for it, focus your energy to make it a reality. You will make it happen if you believe in it and take the action."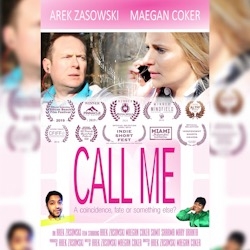 Los Angeles, CA, June 29, 2019 --(
PR.com
)-- It is one of the happiest moments for Arek Zasowski this June. Arek just learned that, after having been screened earlier in the week at the Cinemark 18 & XD, his short mysterious romance "Call Me" was announced Best Romance Short at the 2019 Silicon Beach Film Festival.
In "Call Me" Arek Zasowski portrays the lead character, doctor Vince Williams, who found a mysterious cell phone whilst he was jogging in the forest. After careful examination of the handset Vince discovers that it contains only one contact name mysteriously entitled CALL ME on its contacts list. Curious, Vince decides to call the Call Me person.
The latest win at the Silicon Beach Film Festival continues a series of recent film festival successes. In March 2019, Arek Zasowski won Best Actor Silver Award at the Pinnacle Film Awards in Hollywood Hills and Best Actor Silver Award at the Royal Wolf Film Awards in Los Angeles. Overall, "Call Me" won eleven awards at the two film festivals including: Best Director, Best Narrative Short, Best Foreign Short, Best Actor, Best Actress, Best Supporting Actor, Best Supporting Actress and Best Cinematography.
"I still remember how it all began," Arek recalls, "mainly for fun, to create something interesting to watch for our followers. My very first message that I sent to Maegan Coker over Twitter (Maegan portrays the role of Julia) asking Maegan if she would be willing to join in to work together on the project." At the time, little that Arek and Maegan knew how much fun they will have over the next few months making this mysterious short romance and how much success and satisfaction it will bring. "We have certainly learned a lot from this experience," says Arek.
"What advice could I give to young actors and filmmakers? Take initiative, reach out to other actors and create. Do not wait for anything to happen to you. If you have an idea that you are truly passionate about, work on it, focus your energy to make it a reality. You will make it happen if you believe in it and take the action. Believe in yourself."
What is unique about "Call Me"? Definitely one of the big aspects of the short film is the diversity of the cast and the crew, as well as the choice of multiple filming locations around Europe (England, Scotland, Spain and Poland), United States, the Caribbean and Africa that are highlighting a very inclusive nature of the film (inspired by inclusion rider) and reflect diverse society that we live in.
Arek Zasowski is an international actor, the new up and coming talent, who over the past three years won multiple film festival awards in the USA, Canada and Australia.
Arek begun his acting career in London, England, where he started taking acting classes with English actress and acting coach Valerie Dent, as well as taking a variety of other acting courses and Acting for Film workshops at the New York Film Academy in Los Angeles, New York and Florence, Italy, where Arek had an opportunity to learn from some of the most prominent and reputable actors and acting coaches in Hollywood, including Los Angeles based, actor Martin Thompson.
To learn more about Arek Zasowski please visit the official
ArekZasowski.com
website and for the latest news follow Arek on Instagram and Twitter @arekzasowski.
Contact
Arek Zasowski
(0044) 7877732354
www.ArekZasowski.com

Contact