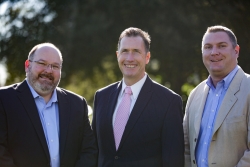 Mountain View, CA, June 30, 2019 --(
PR.com
)-- Hyatt Centric Mountain View, slated to open mid-July, announces an executive leadership team with more than eight decades of combined hospitality experience. OTO Development, part of The Johnson Group, is developing and will manage the new hotel.
Rich Higdon has been appointed as general manager of the 167-room lifestyle hotel in the heart of Silicon Valley and Keith Battaglia as director of sales. Bryan Showalter has been named executive chef of Fairchilds Public House, the hotel's restaurant and bar.
"It's a privilege to bring the first Hyatt Centric hotel to Silicon Valley," says Higdon, a Bay Area native who delights in showcasing the ever-evolving region he's always called home. "This brand offers more than simply a place to stay – it's designed as a launch pad that encourages visitors to explore and experience the essence of our city. We truly are where everyone wants to be."
Tech-forward décor and artwork will create a sense of place at Hyatt Centric Mountain View, paying homage to the area's history as the birthplace of modern technology, while a walkable location makes it easy to access restaurants, retail and other area attractions. Fairchilds Public House will emphasize the tradition of the local pub serving as a community hub, offering a gathering spot for locals and visitors alike.
Before taking the helm of Hyatt Centric Mountain View, Higdon worked as opening general manager for Hyatt Place Emeryville/San Francisco Bay Area. He previously held a variety of leadership roles at Hilton, including a 15-year stint as general manager of Hilton Santa Cruz/Scotts Valley, as well as independent hotels. His first hospitality job was working as a bellhop at the nearby Cupertino Inn. This early emphasis on guest service has held him in good stead, leading to career accolades including the Conrad Hilton Award and a Property of the Year Award from Interstate Hotels & Resorts.
Director of Sales Keith Battaglia began his hospitality career in high school, bussing tables at the Holiday Inn in Auburn, N.Y. He went on to earn a bachelor's degree in international relations from Boston University, focusing on business and economics while minoring in Spanish.
"I'm delighted to lead the sales effort at Hyatt Centric Mountain View," says Battaglia, whose hospitality career has included sales and marketing roles at a yacht club, a luxury ranch and a glamping resort as well as conference centers and hotels under the Marriott, Hilton and Hyatt brands. "I've worked with a variety of intriguing properties over the years, but nothing compares to the excitement of showing clients everything this unique new hotel has to offer."
In addition to guest rooms accessorized with local art, Hyatt Centric Mountain View will offer lively meeting space – both inside and out – with an elegant ballroom featuring floor-to-ceiling glass walls that slide open to access al fresco seating. With full-service catering, the property will accommodate requests for special events up to 500 people.
Executive Chef Bryan Showalter likewise got his industry start as a busboy at a café in the Detroit suburbs, and he's been in food and beverage ever since. After studying culinary arts at Oakland Community College and Schoolcraft College, Showalter has thrived in a career that has taken him to top-tier hotel restaurants across the continental United States as well as Hawaii.
"I'm a foodie at heart, with a passion for creating dishes with locally sourced ingredients, and Fairchilds Public House will be all about bringing California flair to everyone's favorite fare," says Showalter, who most recently worked as executive restaurant chef at the Grand Wailea in Maui.
Showalter has designed "loCALI"-flavored menus for breakfast, lunch and dinner as well as happy hour, with a beverage program drawing mainly from regional breweries and wineries. Fairchilds' indoor and outdoor spaces will include a lively bar and intimate lounge, a fresh-air veranda with firepit, a breakfast lounge, dinner seating, and a group dining room for up to 48 people. ViewOn2 will offer cabana-style drinks and dishes on the 2nd floor terrace with views of the Santa Cruz Mountains.
Hyatt Centric Mountain View is accepting room reservations and booking special events for stays starting August 29. For more information, visit www.HyattCentricMountainView.com or call 650.948.1234.
Pictured, from left, are: Rich Higdon, general manager, Keith Battaglia, director of sales, and Bryan Showalter, executive chef.
About Hyatt Centric Mountain View
Hyatt Centric Mountain View is a full-service lifestyle hotel in the heart of Silicon Valley. Located at 409 San Antonio Road in the Village at San Antonio Center, this hotel comprises 167 well-appointed guestrooms along with lively meeting/event space, both inside and out, including an elegant Cloud Ballroom. Amenities range from a fully equipped fitness center to ViewOn2, an open-air terrace with infinity pool, firepit and views of the Santa Cruz Mountains. The hotel's restaurant and bar, Fairchilds Public House, serves locally sourced California cuisine for breakfast, lunch and dinner as well as happy hour. With an emphasis on connecting guests to the community, Hyatt Centric Mountain View is situated just steps away from restaurants, retail and a movie theater, and close to Silicon Valley's top technology companies. Make reservations at
www.HyattCentricMountainView.com
or call 650.948.1234. Be social with the hotel on Facebook and Instagram @HyattCentricMountainView.
About Hyatt Centric
Hyatt Centric is a brand of full-service lifestyle hotels located in prime destinations. Created to connect guests to the heart of the action, Hyatt Centric hotels are thoughtfully designed to enable exploration and discovery so they never miss a moment of adventure. Each hotel offers social spaces to connect with others in the lobby, meanwhile the bar and restaurant are local hot spots where great conversations, locally inspired food and signature cocktails can be enjoyed. Streamlined modern rooms focus on delivering everything guests want and nothing they don't. A passionately engaged team is there to provide local expertise on the best food, nightlife and activities the destination has to offer. For more information please visit hyattcentric.com. Follow @HyattCentric on Facebook and Instagram, and tag photos with #HyattCentric.