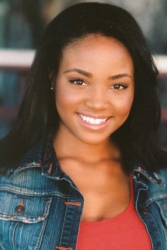 Menlo Park, CA, April 01, 2008 --(
PR.com
)-- Meagan Tandy, Miss California 2007, wants to make something very clear: Not all beauty pageant queens and models have perfect skin. Many of them silently try product after product in an effort to put their best face forward, but Meagan did something more.
Miss California 2007 showed up for SensiClear's open casting call for models with acne issued by The Janice Dickinson Modeling Agency. After a 28-Day Model Challenge Meagan was one of the four finalists judged to have the most improved skin and a chance to become the face of SensiClear for 2008.
"Being a beauty queen, your skin has to be clear," said Miss California 2007. "I basically had everything together but my face. You work so hard to get this title, then you have to hear that you can't go out because your skin looks bad."
According to Meagan some of the people who noticed that her skin wasn't so perfect can't say anything now, because with SensiClear it's looking good. "I'm so glad that I tried it," she adds. "Now I just have the confidence to go out there and meet people. I'm motivated. I'm inspired. I'm energized to go out there and smile at everybody."
"Most models spend a lot of time and money trying to find proactive acne solutions that can help keep their skin camera-ready," said Charles Benard, Chief Marketing Officer for Mission Scientific. When pimples crop up, models have to add extra make-up to cover them up and that only contributes to the problem."
Unlike systems using benzoyl peroxide, the SensiClear system is the only acne treatment system with the exclusive patented ingredient Retextra. SensiClear treatment lotion with Retextra® has the ability to penetrate and unclog pores, while simultaneously smoothing and softening the skin's surface.
"This is the most advanced acne skincare treatment that can be purchased without a prescription," said Benard. "The SensiClear system actually brings a new solution to the marketplace," he added.
About SensiClear (
www.SensiClear.com)
SensiClear Acne Treatment System consists of three easy to use products: a purifying cleanser, a balancing toner and the revolutionary blemish-free treatment lotion featuring the exclusive patented ingredient Retextra.
About Mission Scientific, Inc.
Mission Scientific Skincare is venture backed and headquartered in Menlo Park, CA. The company is dedicated to developing leading edge skin care solutions utilizing the latest patented technologies.
###