Michigan Mittens Selected to Participate in Made in America Product Showcase at the White House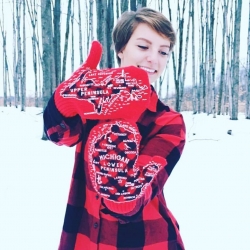 Pontiac, MI, July 03, 2019 --(
PR.com
)-- On Monday, July 15, 2019, Michigan Mittens will represent the State of Michigan and participate in the third annual Made in America Product Showcase at the White House.
"We are excited to once again host businesses from all 50 states at the White House to highlight and celebrate American-made products," a White House official said. "In today's booming economy, President Trump and his Administration are proud to tout businesses that create jobs and support our local communities."
Businesses from each of the 50 states have been invited to display their products made and produced in the United States. Michigan Mittens plans to showcase American-made Mittens featuring "maps" of Michigan's Upper and Lower Peninsulas printed on them, as well as other USA Made Goods from their product line during the event.
Founder of Michigan Mittens Connie Hahne and business partners Lisa Angelilli and Peter Boyer will travel to Washington, DC to represent the State of Michigan at the White House on July 15.
"We are thrilled and humbled to have been selected to represent our beautiful State and look forward to showcasing our unique American Made products that reflect the Mitten State in a fun & positive manner," Connie Hahne said. "This is such a great honor for our small Michigan business."
More about Michigan Mittens:
It all began back in 2007 when Connie Hahne and her husband Erich were making the 5-hour drive home from their cabin in Michigan's Upper Peninsula. Connie shared her crazy idea about making warm, winter mittens with maps of Michigan's Upper Peninsula on one mitten and the Lower Peninsula on the other to represent the "Mitten State." Erich loved the idea. The rest of the drive flew by as they brain stormed, deciding they would logically name this new creation, "Michigan Mittens." While travelling over the Mackinaw Bridge, Erich penned the slogan "Always have a MAP on Hand!"
In 2013, Connie, looking for help with product development and a possible partnership, walked into Earth 2 Earth, a Screen Print & Embroidery shop located in Downtown Pontiac. There she met Lisa Angelilli and Peter Boyer, both talented artists and successful business owners for more than 20 years. Soon after, a partnership was formed.
Lisa has created the new signature maps that they proudly use on their mittens today as well as beautiful packaging, promotional pieces and added to the product line. Peter operates the factory and manages 18 full-time employees. Peter and Lisa have helped to reinvent and expand on Connie's crazy idea and Michigan Mittens is flourishing because of it.
They are proud to say that Michigan Mittens are made in America and each pair is handled by no fewer than 9 American workers.
Celebrate the Mitten State with Michigan Mittens!
Contact
Michigan Mittens
Connie R. Hahne
810-422-7178
https://michiganmittens.com/
Peter Boyer
248-563-5588
peter@michiganmittens.com

Contact