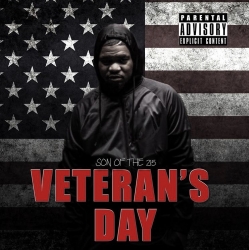 Philadelphia, PA, July 12, 2019 --(
PR.com
)-- Morris Allen, better known to the streets of Philadelphia as The Son of the 215, has positioned himself to be who Big L was to Harlem & Biggie was to Bed Sty, always representing his city everywhere he goes. His anticipated Stadium Status open.spotify.com/album/2am81cUlpxYTKGMiI5IC0z release entitled, Veteran's Day debuted to over 30,000 streams within the first 24 hours on Spotify. Hailing from the West Oak Lane section of Philly also know as "Uptown," Morris Allen prides himself on unifying the city.
Veteran's Day was derived from a combination of being born on the same day and being a Veteran in the game. This brilliantly crafted EP is a guarantee must play from beginning to end. The witty wordplay, and effortless flow as well as visual delivery allows the listener to navigate with ease.
The performance of his first single, Heavy Now, brought him to the stages from Voltage Lounge to the legendary SOB's in New York City, and the New Energy Stage during the largest media and music conference SXSW. Allen's second single entitled, Philadelf, stays true to what he represents and pays homage to his hometown. The hard hitting chorus "This is Philadelf, you don't have to ask homie, come and see for yourself" makes you feel like you are standing right in the center of the city.
This Philly native is making his rounds across the country while maintaining his roots firmly planted on his home base. When asked what kept him going, Allen stated, "I want to wave the flag for Philly, to let the world know that we got that music you can feel, I'm here to carve out my space & to promote that Philly Hip Hop that we all know and love."
For booking or inquiries contact:
11:22 Multimedia Group, LLC
215.613.0316
info@1122mmg.com