Abass Amiretezam's Children Filed an Action Against Government of Iran and IRGC for Alleged 38 Years of Torture, in Federal Court Under FSIA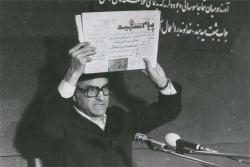 Washington, DC, July 15, 2019 --(
PR.com
)-- The family of Mr. Abbas Amirentezam, former Deputy Prime Minister of Iran in 1979, filed an action against the Islamic Republic of Iran and the Iranian Revolutionary Guard Corp (IRGC) for, allegedly, the almost 40 year unlawful incarceration and house arrest of their father who was subjected to torture, solitary confinement, and lack of medical care that ultimately led to his death in 2018.
Allegedly, Mr. Amirentezam was the longest-held political prisoner and prisoner of conscience in the Islamic Republic of Iran. According to According to Fariba Amini, as of 2018 he had "been in jail for 17 years and in and out of jail for the twenty one years, altogether for 38 years." He was Iran's Ambassador to the five Scandinavian countries and Deputy Prime Minister in the Interim Government of the Islamic Republic. Mr. Amirentezam opposed the Iranian hostage taking of the American Embassy in Tehran in 1979 and was subsequently arrested. Allegedly for 555 days, he was held in solitary confinement without access to lawyers nor any details of the charges against him before his trial; after Iran released the 52 American hostages in 1981, Amirentezam was tried without access to a lawyer and jury; he was unjustly convicted and condemned to life in prison.
The following is alleged in the complaint:
According to his memoir, "until 1996, while he was incarcerated in Evin prison, Mr. Amirentezam was denied any visitation rights and/or communication with his children. Mr. Amirentezam was routinely tortured and exposed to mock executions. He was refused medical treatment and consequently suffered irreparable damage to his health. His family not only endured his absence but lived in continuous fear of his death. Despite attempting to silence Mr. Amirentezam - he defied and remained as vocal as he could throughout his incredible hardship."
According to UN Commission on Human Rights Report published on March 1996, Amirentezam interviewed with the UN Special Representative of the Commission on Human Rights, Mr. Maurice Copithorne. In his 1996 report to the UN, Mr. Amirentezam alleges that "1,100 political prisoners had been executed in Evin prison during one night at the beginning of the fall of 1981." Pursuant to Mr. Amirentezam personal website, he alleges that, "despite constant pressure from the Iranian authorities, he never confessed to any erroneous allegations and never asked for mercy. He remained defiant to the end. As a result, he is the recipient the human rights award of Bruno Kriesky Prize in 1998 and the Jan Karski Award for Moral Courage in 2003."
Mr. Amirentezam died on July 12, 2018 while under house arrest in Tehran. Allegedly until his death, he demanded a fair and public trial. Mr. Amirentezam children claimed in their Complaint that they have suffered significantly by the immense pain intentionally imposed unto their family by the government of the Islamic Republic of Iran. The Complaint further alleges that, "the Amirentezam family is demanding justice by exposing the government of the Islamic Republic of Iran and the IRGC for all the cruelty and suffering they have endured for almost four decades."
This case is brought under terrorism exception of the Foreign Sovereign Immunities Act (FSIA) in the U.S. District Court for the District of Columbia through Plaintiffs attorney, Mr. Ali Herischi of Herischi & Associates, LLC. This action is filed on the first anniversary after Mr. Amirentezam's death. Plaintiffs are asking for compensatory and punitive damages. Mr. Herischi is hopeful that "this case will bring attention to the systematic human rights abuses and domestic terrorism by the government of the Islamic Republic of Iran and the Iranian Revolutionary Guard Corps."
Contact
Herischi & Associates LLC
Ali Herischi
301-363-4540
www.ibhlaw.com

Contact