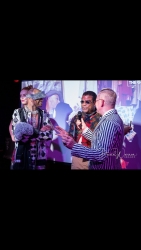 New York, NY, July 16, 2019 --(
PR.com
)-- Aaron Paul, former front-man and Lead Singer of the Top 10, chart-topping British boy-band, "Worlds Apart," an Arista Records/Simon Cowell discovery, has embarked upon his own journey as a solo artist, now simply known as Aaron Paul, and has released his new music video for his latest single, "FASHION" #itsFASHIONdahlings at a private screening, hosted by George Wayne, Contributor @VanityFair on July 11, 2019 at Gospel, New York, New York.
With a new album (DANCE) in the wings, Aaron boldly approached legendary MTV Fashion Director, Montgomery Frazier "The Image Guru" @sohomuse, to collaborate on a new song he wrote, "FASHION" #itsFASHIONdahlings. From there, the two produced a guerilla/docu-style music video, directed by emerging NYC videographer/director Bryan Griffin, and edited by renown film editor Eddie Nichols.
Frazier, "The Image Guru," added his voice, fashion/pop culture expertise/access and oratorical prowess to Aaron's song. Frazier became Co-Creative Director/Producer on this project. His vocal raps injected such NY iconic social/pop-culture arbiters/luminaries such as George Wayne, Michael Musto (VillageVoice/W) and world renown fashion designer Malan Breton (who costumed the lead performers) to the roster of many other NYC pop icons, celebrities and "tastemakers," like Vogue Empress Anna Wintour, with homages to heiress/fashion icon-global DJ and entrepreneur Paris Hilton, and other references to fashion model Karli Kloss, designer Cristian Siriano from the rebooted "Project Runway" and "Pose's" Prince of Poseurs, Billy Porter.
Other collaborators included New York fine art/photographer Luciana Pamapalone and celebrity pop-culture photographer David Warren. Also included were urban tailored Voguers Gage, Lestat, and DejaVu, as well as hot, John Wick III-featured actor and model Gio Delavicci.
Contact:
For press inquiries and bookings, please contact Greta Libbey at
libbeygreta@gmail.com
.
Aaron Paul Digital and Social Handles:
Website - www.aaronpaulmusic
Facebook - www.facebook.com/aaronpaulmusic/?ref=hl
Twitter - @AaronPaulMuzic Instagram - @aaronpaulmusic
Soundcloud - @aaronpaulofficial
Soho Muse - www.sohomuse.com/profile/view
Connect with Montgomery Frazier "TheImageGuru"
Facebook - www.facebook.com/montgomery.frazier
Twitter - @MFrazierImageG
Instagram - @theimageguru
Soho Muse - http://www.sohomuse.com
Aaron Paul Featuring "TheImageguru" Montgomery Frazier - FASHION #itsFASHIONdahlings - Music Video - YouTube Link:
https://www.youtube.com/watch?v=k4Hgm--WZV0
Aaron Paul Featuring "TheImageGuru" Montgomery Frazier - FASHION #itsFASHIONdahlings (Red Carpet Mix) - Public SoundCloud Link:
https://soundcloud.com/aaronpaulofficial/aaron-paul-feat-montgomery-frazier-fashion-itsfashiondahlings-apmusic2019