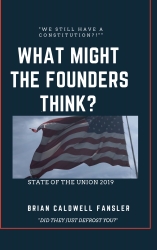 Sacramento, CA, August 20, 2019 --(
PR.com
)-- Brian Fansler's latest book, "What Might The Founders Think?: State of the Union 2019" is a light-hearted, hypothetical look at how some Founding Fathers might view President Trump's recent SOTU address to Congress and the Democrats' response.
Brian's book begins by delving into how the Founders might react to seeing a television for the first time and hearing that we still have a President, a Congress, and a Constitution - not just the State of the Union address.
Brian's book also highlights the Founders' views about and possible reactions to "the politics of resistance" and political parties, or factions as the Founders called them.
Brian's book also looks into how the Founders might react to a woman as Speaker of the House. Also, not just women in general, but also a black woman serving in Congress. We've come a long way, baby.
Brian also delves into the Founders' views of and possible reaction to a host of other issues brought up in the SOTU address, including: immigration, infrastructure, foreign policy, religion, executive powers, the military, foreign wars, the nation's capital, and America's founding.
Speaking of executive powers, the Founders even considered having three Presidents simultaneously. Imagine how a Trump-Clinton-Sanders Presidency might play out today? Sit back, grab your popcorn, and enjoy the show.
Regarding immigration, the Founders expressed a variety of views about immigrants and foreign individuals. Some Founders favored foreigners coming here. Others didn't.
Brian's book also includes the Founders views about religion. Overall, they would be pleased that we are so religiously diverse and relatively religious. Compared to their struggles, the Founders would be surprised and amused by what we are fighting about.
Brian's book also includes the Founders views on and possible reactions to items brought up in the Democrats' rebuttal to the SOTU address. The fact that the Democrats rebuttal was done by Representative Stacey Abrams, who also happens to be a black woman, is something the Founders generally would never have anticipated. That would certainly get their attention.
In response to another item brought up by Representative Adams' rebuttal, Brian's book also shares what elections and voting were like in the Founders' time. One of their anecdotes to low voter turnout might be to give voters booze. Yes, you read that correctly. Why? The Founders did it themselves.
Brian's current book ends with a brief overview of eighteen Founding Fathers. Some you have heard of and are familiar with, but several others you might not know anything about. Do the names Elbridge Gerry, Richard Henry Lee, or Luther Martin ring a bell?
Brian's book takes a light-hearted, hypothetical approach to the Founders' potential reaction to the SOTU address by some Founding Fathers. It should make you laugh and hopefully think a little as well.
Brian's book is available as an e-Book on Amazon, Barnes and Noble, or Smashwords for $1.99. Brian's book is also available in paperback on Amazon for $5.38.
Brian's e-Book is 72 pages total so it is a fairly quick and easy read for today's busy, modern reader.