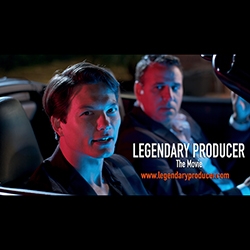 Studio City, CA, October 10, 2019 --(
PR.com
)-- The art of film has been revered since the days of the Lumire Brothers, before the title of director had even been bestowed. Now, directors and actors have achieved a level of celebrity that is only growing exponentially. Some are considered auteurs, where their name is directly correlated with a distinct style or aesthetic.
Few other visionaries who have the power to resurrect extinct animals or create mythical landscapes so real that even Mother Nature herself would approve. There are also those who are risk takers, continually pushing boundaries, challenging their audiences and bending genres. No matter what style or method a director uses, none of them could achieve success without the dedication of their producers.
"Legendary Producer" is the second installment of the "Legendary Series," it focuses on producers who have accomplished incredible achievements in film. Many of these creators are prolific but receive little recognition (because of their not being in front of the camera) for their feats. Legendary Series Inc.'s goal is to reveal how legendary they truly are.
Their first movie was a great success; "Legendary AD," was accepted and screened at the Doc Corner at the Cannes Film Festival. You can watch the trailers at www.legendaryad.com (Feature Film Documentary, 96 minutes).
Producers not only play a huge role in the production of major motion pictures, but have their own visions, input, concepts, stories and personalities that often go unseen. Blood, sweat, and tears are not just a part of their job, but a part of their lifestyle. In this documentary, the organism that is the film crew is compared to the structure of an atom, where the director, cinematographer and producer are the nucleus with protons and electrons whizzing around them. While they each serve their own purpose, the organism could not function successfully without all of these elements intact. A truly collaborative form of art.
In the second installment of his Legendary Series, Leonardo Corbucci endeavors to tell the story of the stories untold. Concentrating on those in the film industry who have accomplished epic achievements with little recognition, the goal of this series is to reveal how extraordinary these people truly are. Legendary Producer is full of charismatic humans who have dedicated their lives to the creation of an art form that is loved by the world. Because of Leonardo Corbucci's vision, their achievements will not only be seen, but immortalized.
This adventure is just begun, and film lovers can still be part of it: www.legendaryproducer.com Open Contest: Find all the movie references in the intro videoclip, you may win up to $5,000 worth of rewards: www.legendaryproducer.com
Legendary Producer
www.legendaryproducer.com