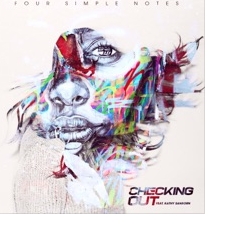 Rutherford, NJ, October 23, 2019 --(
PR.com
)-- It's always difficult to know when to end a relationship, and oftentimes we lose hope that we will find love again. "Checking Out," written by Michael Peloso and Ekat Pereyra, performed by Kathy Sanborn, and produced by Matthew Shell, poignantly tells the tale of a fallen relationship and provides optimism for new love.
Michael Peloso, the lyricist/songwriter behind Four Simple Notes, is a New Jersey-based lyricist/songwriter who writes undeniably touching, honest songs with a sense of simplicity that are uniquely all his own. Michael has collaborated with Natalie Jean on several songs. "Please Don't," a Josie Award-nominated R&B track was released in 2016, and is a featured single on Natalie's Unafraid album. The duo released "Alive" in 2017, and they worked together on the 2018 single "Lost & Found." Michael penned the lyrics and co-wrote "The Letting Go," a duet between Natalie Jean and Levi Moore, which has garnered numerous nominations and awards. Most recently, it won Best Country Music Video in the 2019 World Music and Independent Film Festival, 2019 Viewers' Choice in the California Music Video Awards, a Semi-Finalist in the 2018 UK Songwriting Contest for Music Video and Song, Best Folk/Americana Song of The Year at the 2018 Josie Music Awards, Silver Medals in the 2018 Global Music Awards for Music Video and Song, Best Country Song and Best Country Music Video in the 2018 Clouzine International Music Awards. The music video has won over 23 awards and has been viewed more than 38,000 times. Michael is also the co-writer of "Echoes of Angels" by Christina Gaudet. The song is currently under consideration for "Record & Song of the Year," "Best Rock Song," & "Best Rock Performance" for the 62nd Annual Grammy Awards.
Kathy Sanborn is an award-winning jazz vocalist, composer, and recording artist known for her velvet voice who takes jazz music into the modern era with her sultry, contemporary sound. In September 2017, Sanborn won a Clouzine International Music Award (Best Jazz Song) for her original composition, "Falling," from her album "Recollecting You." Sanborn's smooth vocals and clear diction are comparable to 1950s cool jazz singers Anita O'Day, Chris Connor, and June Christy. Her vocal tone has been compared to the 1970s singer-songwriter Laura Nyro for depth and timbre. JazzTimes on Sanborn's work: "Romance is always in the air as far as Kathy Sanborn is concerned, and her songs are reflections of those emotions which take flight when overpowered by love landscape." Eric Cohen of New York radio station WAER proclaimed that Sanborn's voice "truly is a gift from the heavens."
Businesses interested in partnership or media opportunities can learn more on the company website of Four Simple Notes at
www.foursimplenotes.com
.
To purchase the song, visit
https://music.apple.com/us/album/checking-out-feat-kathy-sanborn-single/1481743358
.
Contact info:
Name: Michael Peloso
Organization: Four Simple Notes
Phone: +1-201-270-6567
Email: michael@foursimplenotesmusic.com