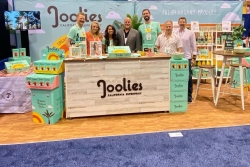 Los Angeles, CA, October 28, 2019 --(
PR.com
)-- Joolies Brings Whimsy and Charm to Record-Breaking Crowds in Anaheim, CA.
Joolies, everyone's favorite organic medjool date company continues an incredible first year by winning the award for Best First-Time Exhibitor at the Produce Marketing Association's Fresh Summit 2019. The Joolies booth was a standout amongst the more than 1,200 exhibitors as the summit's record-breaking 24,000 attendees were drawn into the colorfully vibrant world created by Joolies. The booth, an extension of the Joolies brand, evoked the feeling of being in a comfortable corner store while simultaneously weaving the Joolies vibrant California-inspired brand identity throughout the design.
"Joolies was chosen as the Best First-Time Exhibitor out of more than 160 first-time exhibitors based on their exhibit, product appeal, messaging, and engagement. The Fresh Summit Best of Show judges noted that Joolies' display was colorful, fun, and unforgettable, with friendly staff, multi-level messaging and engaging and integrated branding," says PMA Trade Show Manager, Kyle McMillan.
When buyers, brokers and bloggers sat down with the Joolies team at the "Speed Date-ing" table, they were welcomed by product displays and highlights of the brands first year in business, set against a lush backdrop depicting the clear blue skies of the Coachella Valley, home of the Joolies farm. On display were Joolies bulk offerings: 11 pound boxes, 4.4 pound boxes; Consumer retail ready packs; 14 oz. Whole, 11 oz. Pitted and 2 oz. Snack Packs; lastly, Joolies Organic Medjool Date Syrups; Original and Blueberry. "We want our packages to live in the fresh produce section of the store, but boxes don't look like generic plastic produce item – it's stands out and in fact made from sustainable paperboard. We created our back wall to feel as if you were walking into the organic produce section of your neighborhood store to showcase how Joolies mint boxes pop in a remarkable way. It's disruptive in the best way and brings a smile to your face. Drawn in by a sense of nostalgia, consumers are intrigued and happy to realize dates are inside these cute boxes," says Senior Brand Manager, Amanda Sains.
All Joolies organic medjool dates are single-sourced fresh from our farm in Coachella, California. Joolies does not use any pesticides, herbicides or fungicides and are Certified Glyphosate Residue Free by The Detox Project. "We are so thrilled to be recognized by the team at PMA for standing out as a breakout brand. Joolies is bringing fresh millennial vibes to the produce industry and bringing new consumers to the entire medjool date category. After one year in business, it's simply an honor to be selected as the Best First Time Exhibitor of Fresh Summit 2019 and raising awareness about our medjool dates, fresh from our California farm and innovative sustainable packaging," Mark Masten, CEO, Joolies.
Joolies organic medjool dates 14 oz. Whole and 11oz. Pitted organic dates are launching in retail at an affordable SRP 8.99. Joolies 3-date Snack Packs SRP 1.99.
About Joolies
Joolies brings delicious, organic medjool dates from our palms to yours as a delicious, healthy on-the-go option for snackers everywhere. Medjool dates, also known as the king of dates, are a great source of energy, have a low glycemic index, and are full of beneficial nutrients. To ensure the best possible quality, Joolies dates are handpicked from the tree and carefully packed at peak ripeness and never dried. The Kohl Family Farm has been producing organic medjool dates for nearly two decades and has honed their craft to present Joolies to the world. A joint partnership between the Kohl Family Farm and Venice Brands, Joolies is on a mission to share the nutritious goodness of organic medjool dates grown in the sunny Coachella Valley of Southern California.
Learn more at
www.joolies.com
and share how you're date-ing @jooliesdates.
For media inquiries, please contact:
Daniel Huipe / daniel@prezzroom.com