Investor-Ready Program Opens Doors for Entrepreneurs
Presenting to an angel investment group gives business owners the opportunity to attract investors so they can grow their business and expand their markets.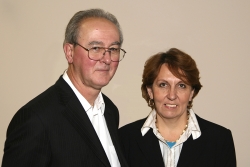 Thunder Bay, Canada, May 10, 2008 --(
PR.com
)-- Northern Ontario Enterprise Gateway's Regional Investor Showcase held last fall gave 5 local entrepreneurs the once-in-a-lifetime opportunity to present their business case to Thunder Bay's Angel Investor Group. Two of the businesses are now under consideration for investment. So what does this mean for local entrepreneurs?
"Presenting to an angel investment group gives business owners the opportunity to attract investors so they can grow their business and expand their markets," says NOEG Board Chairman Gord Wickham.
Following the success of the Investor Showcase, NOEG is returning to Thunder Bay on June 17th with their next program, Becoming an Investor-Ready EntrepreneurTM This extensive one-day program is designed to help entrepreneurs determine if their business is ready for angel investment and to prepare them for the next Investor Showcase scheduled in Thunder Bay for the week of September 22, 2008. A maximum of 10 entrepreneurs will be selected to pitch to the local Angel Investor Group at that time.
The Investor-Ready program is a collaboration between the Small Business Development and Technology Centre in North Carolina, The Northwestern Ontario Innovation Centre and The NOEG. "We've assembled local angel investors, as well as investors from Toronto and the U.S.A. to deliver this program," says Jim Noble, Regional Coordinator. "This program will help entrepreneurs fast-track their business growth and get the edge they need," comments Noble.
The management team from Sencia Canada Ltd., a software development firm in Thunder Bay, presented to the Angel Investors at last year's entrepreneur event. Irene Kozlowski, Sencia's President and CEO, states that "NOEG's programs are a must for all CEO's wishing to take their business to the next level, whether you're in start-up phase or have 25 years behind you. The workshops will provide you with realistic goals that you will need to achieve if you're looking to grow your business."
The upcoming June 17th program is open to all entrepreneurs and their management teams. Entrepreneurs are encouraged to register early online at www.noeg.ca.
The Northern Ontario Enterprise Gateway is funded by FedNor and is the premiere agency in Northern Ontario linking northern investors with entrepreneurs. NOEG has facilitated the creation of Angel Investing Groups in Northwestern and Northeastern Ontario. NOEG acts as a catalyst in creating increased deal flow between northern investors and entrepreneurs. The agency offers entrepreneurs and established business owners the "best–in-class" business sessions that prepare companies to attract key investors. NOEG also provides the latest in business information through its website and quarterly newsletter 'NOEG LINK.' For more information, go to www.noeg.ca or call Jim Noble, Regional Coordinator at 1-866-924-7600.
Photo inset: Jim Noble, NOEG's Regional Coordinator and Sencia Canada Ltd.'s CEO and President, Irene Kozlowski.
Contact:
Media Relations: Jim Noble, NOEG
(866) 924-7600
info@noeg.ca
www.noeg.ca
Sencia Canada Ltd.: Irene Kozlowski
(807) 768-6603 ext 9205
Rob Watson
(807) 768-6603 ext 9202
(888) 817- 3703
To upload photo:
http://www.noeg.ca/index.php?module=photoalbum&PHPWS_AlbumManager_op=list
###
Contact
Northern Ontario Enterprise Gateway
Jim Noble
1-866-924-7600
noeg.ca

Contact