Free GTA IV Guide - Walkthroughs, Tips and Tricks for GTA IV in P3Zine Issue 15
Latest issue of free PlayStation 3 magazine from GamerZines.com features 10 page GTA IV Special with tip and tricks and definitive review.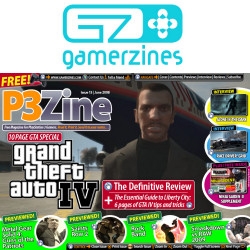 London, United Kingdom, May 16, 2008 --(
PR.com
)-- GamerZines.com, the portal for free digital magazines for gamers, today announces the publication of P3Zine Issue 15. The issue includes ten pages dedicated to the all-conquering GTA IV game.
As well as the definitive review of the game, the digital magazine has walkthroughs for the games trickiest missions: Easy As Can Be, The Snow Storm, Three Leaf Clover, Paper Trail and Pegorino's Pride. In addition, there's the top ten tips and tricks for getting the most out of GTA IV.
"Gamers have always wanted to get the most out of GTA games," says Dan Hutchinson, Editorial Director for GamerZines.com. "This issue of P3Zine should help everyone get more from GTA IV and help out those stuck with some of the harder missions."
P3Zine is also inviting readers to send in their own tips for the game so they can continue to help gamers find all the hidden gems in GTA IV.
In addition to GTA IV, issue 15 of P3Zine includes exclusive interviews for Alone in the Dark and Race Driver: GRID, as well as previews for Metal Gear Solid 4: Guns of the Patriots and Saints Row 2.
All GamerZines.com magazines are professionally written and produced by a team of games journalists and publishers with decades of experience in the magazine industry. The portal offers free monthly magazines for various games platforms in interactive PDF format. All the magazines are enhanced with rich media and extensive video of the games in action.
Readers do not need to register to download the magazines, which are all completely free. All that is required to view the magazines is Adobe Reader version 6 or above on Windows or Mac, and a broadband internet connection.
Gamers can download this issue of P3Zine for free now from
http://www.gamerzines.com/
###
Contact
Cranberry Publishing Ltd
David Taylor
0207 692 0883
www.gamerzines.com

Contact