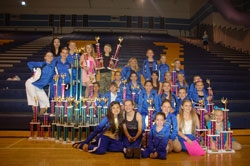 Las Vegas, NV, May 27, 2008 --(
PR.com
)-- The applause just kept coming for students at Dance Connection, a Las Vegas dance studio, as they took home awards in five different categories at the annual Dance Spectacular. This regional, high-profile event draws dancers from all over the region, including Utah, Nevada and California. The May 10 event was held at Sierra Vista High School right in Dance Connection's home city.
The wins come right before Dance Connection's June 7 auditions. Youngsters of varying ability can join the 200-strong company, which has seven skill divisions. Classes include ballet, jazz and tap, and students can even work on their acting and singing skills as well in a student-favorite class called Broadway.
"We are so proud of how our dancers did at Dance Spectacular. But I can't say I'm surprised—I know how talented they are, and I know how hard the Dance Connection staff works with them to make sure they are all the best dancers they can be," says Dance Connection owner and instructor Cherilyn Beanan. Beanan herself has trained dancers who have gone on to perform on Broadway and in Hollywood.
Dance Company performers received awards in the following categories at Dance Spectacular: Solos, Group Dances, Best Lyrical, Duet/Trio/Quartet and Overall Intermediate. In the Group Dances category alone, Dance Company members received nine separate first-place awards for performances titled "It's Raining Men," "Summertime," "Twilight Zone," "Baby I'm a Star," "Mini Minstrels," "Boots," "Hey Big Spender," "One Vision" and "Beautiful."
"Competing is an important part of being a member of Dance Connection," Beanan says. "Not only do the competitions give our dancers clear, short-term goals to achieve, they also hone skills we know are very important—self-confidence and self-esteem among them."
But it's not all about winning for Beanan. "And as thrilled as I am with how our company did at Dance Spectacular, it's definitely more important for me to know that these are happy, well-adjusted children who can grow to be valuable contributors to their communities."
To learn more about Dance Connection's upcoming auditions, visit the studio's Web site at www.danceconnectionstudio.com. Audition packets are available at the studio, which is located at 7501 N. Cimarron Road, #103, in Las Vegas. Call the studio at 702-515-1624.
Editors: Please note that high-resolution, color Dance Company photos are available for publication upon request.
About Dance Connection
Dance Connection is a Las Vegas-based dance studio that boasts a company 200 strong. Dancers perform competitively and in the community. To learn more, visit www.danceconnectionstudio.com, call 702-515-1624 or e-mail info@danceconnectionstudio.com.
###