Methodist University and Cape Fear Valley Health Announce Partnership to Create a New Medical School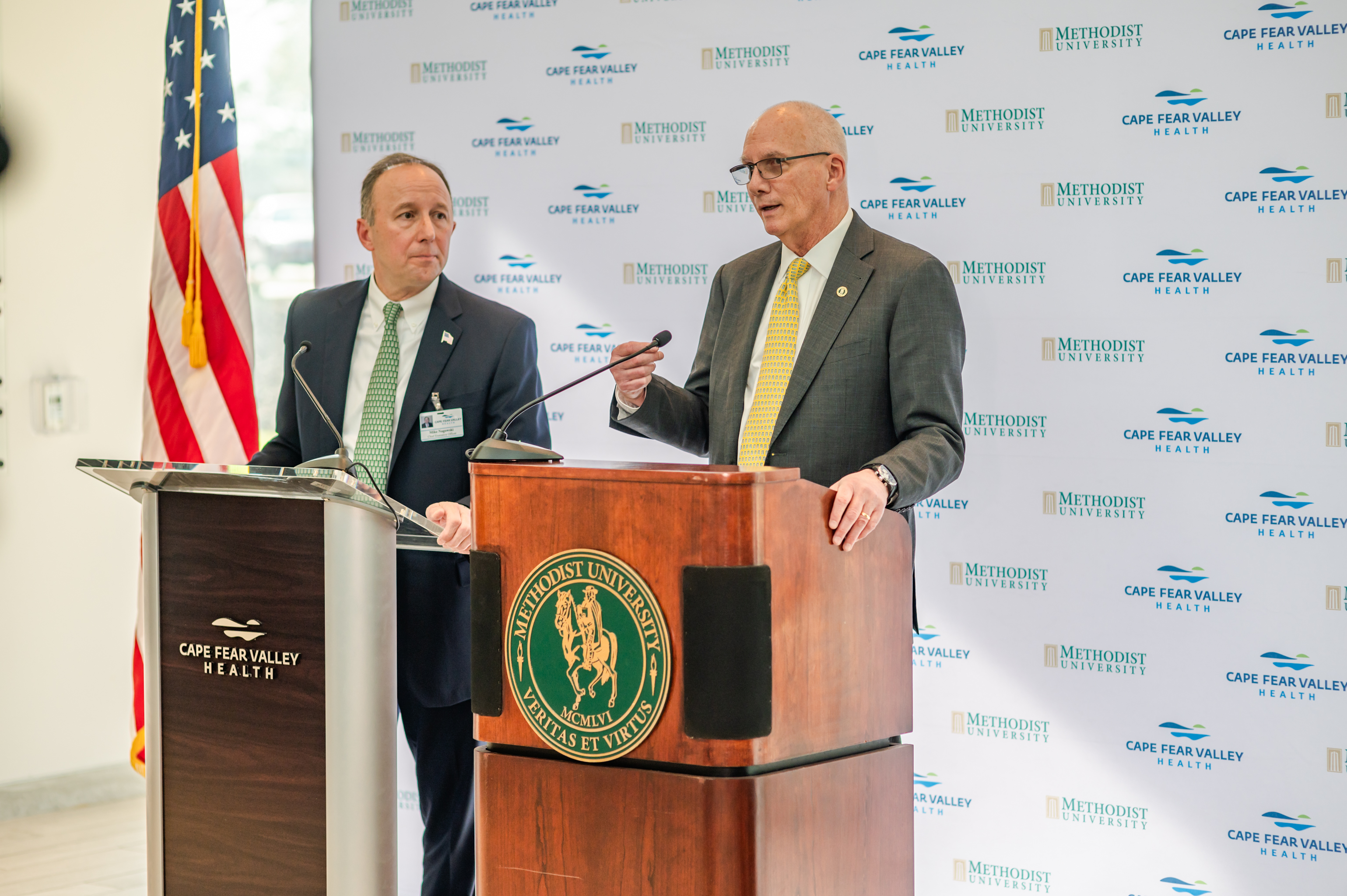 Fayetteville, NC, February 27, 2023 --(
PR.com
)-- Methodist University and Cape Fear Valley Health are pleased to announce a new partnership with the intent to establish the state-of-the-art Methodist University medical school that will train the next generation of healthcare professionals. The new medical school, to be located on the campus of Cape Fear Valley Medical Center, will combine the expertise and resources of both institutions to provide students with unparalleled educational and clinical experiences.
The partnership between Methodist University and Cape Fear Valley Health is a significant milestone in the history of medical education in Southeastern North Carolina and for the growth of Methodist University. The new medical school will be an important contributor to the healthcare industry, addressing the shortage of healthcare professionals and improving the quality of healthcare delivery – while also following the mission of providing better medical care for rural and underserved populations and diversifying the physician workforce.
The partnership will create opportunities for students to learn in a collaborative and innovative environment, with access to cutting-edge technologies and new, state-of-the-art facilities constructed at Cape Fear Valley Medical Center. The new medical school will provide students with the opportunity to work alongside experienced faculty and healthcare professionals, gaining valuable real-world experience that will prepare them for their future careers.
"We are excited to create a new medical school that will provide students with highly innovative medical education combined with local clinical experiences," said Methodist University President Stanley T. Wearden. "This partnership is a tremendous opportunity for our institution to engage with Cape Fear Valley Health to address the shortage of healthcare professionals, particularly in rural areas, and to improve the quality of healthcare delivery, which will enrich the local community and beyond. The focus of this medical school on rural and underserved populations is a perfect match for MU's service-focused mission, and the focus on a health-systems approach to medical education fits well with our longstanding liberal arts tradition."
Michael Nagowski, CEO of Cape Fear Valley Health, stated, "The creation of a medical school on our campus is truly transformational for Fayetteville and Southeastern North Carolina and will create a culture of innovation and excellence in healthcare delivery for our region. Having the opportunity to partner with such a highly regarded and successful university in our community ensures our students will receive an exceptional education that will prepare them to become the next generation of physicians."
The partnership between Methodist University and Cape Fear Valley Health will also contribute to the economic development of the region. The new medical school is expected to create jobs and attract new businesses to the area, providing a significant boost to the local economy.
The Methodist University medical school in partnership with Cape Fear Valley aims to begin classes in July of 2026 pending approval by the Liaison Committee on Medical Education (LCME) and SACSCOC (Southern Association of Colleges and Schools Commission on Colleges).
About Methodist University
Methodist University is an independent, four-year institution of higher education with approximately 2,000 students from across the U.S. and more than 50 countries. MU offers more than 80 undergraduate and graduate degree programs (including doctoral-level options) on campus and online. MU is ranked as the "No. 1, Most Diverse University in North Carolina," features more than 100 student clubs and organizations, plus 20 NCAA intercollegiate sports (with nearly 40 team national championships).
To learn more about Methodist University, please visit methodist.edu.
Contact
Methodist University
Brad Johnson
859-550-6992
www.methodist.edu

Contact