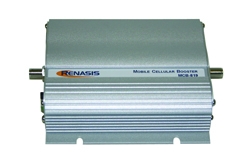 Provo, UT, June 04, 2008 --(
PR.com
)-- Renasis, LLC, a leading technology innovator specializing in the design, development and manufacture of wireless communications products today announced the official launch of its MCB-819 Mobile Cellular Booster. This compact unit offers dual band compatible service (CDMA/PCS) and delivers the ultimate in power, durability, and ease of use. Though the MCB-819 can be used in home or office to enhance cellular signal in areas which typically drop calls, such as in basements or "dead" spots, it is ideal for use in cars, boats, and motor homes.
"The MCB-819 virtually eliminates dropped calls," said Ki Chun, president of Renasis. "This little unit improves voice quality, enhances cellular signal strength, and increases data transfer rates. It practically turns your vehicle into a mobile cellular station!"
Small and compact, MCB-819 is powered by a 12 volt DC power supply, with low power consumption but high power output. The unit is easy to install and maintain and comes complete with outside and inside antennas, cables, and power supply.
About Renasis
Renasis, LLC, specializes in the design, development and manufacture of wireless communications products, services and system solutions. Established in 2003 to meet the growing need for products which extend the reach of Wireless Local Area Networks (WLAN), Renasis' suite of broadband, high-speed wireless products includes amplifiers, access points, cables, antennas and a variety of wireless accessories. Experts in the innovation and implementation of wireless technology, Renasis provides OEM/ODM design services to a growing number of premier manufacturers. Renasis is headquartered in Provo, Utah, and can be reached at 801-407-1300 or
www.renasis.com
.
###