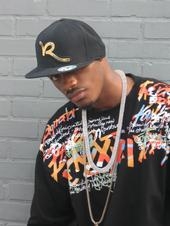 New York, NY, June 14, 2008 --(
PR.com
)-- Marcello Jones, A.K.A. "CELLOw", is a 20-year old actor who has acted in numerous movie roles along with A-list actors such as Oscar Winner Mr. Forrest Whitaker, and other A-List artist such as: Samuel L. Jackson, Bow Wow, Jackie Long, and Sharon Stone, just to name a few. As a model, producer, and solo recording artist, "CELLOW" is making giving back to his community a priority after having to move from his hometown of New Orleans, Louisiana.
From sales of his soon to be released hot new single, "Hip Hop is Still Alive"...hitting airwaves globally, along with his new label mates, "Cel-Low" is supporting the much needed non-profit organization The CHILL Program, where the mission is to help prevent violence in urban and suburban communities, and find a cure for heart disease, pancreatic and breast cancer.
"CELLOW," along with newly signed R&B Superstars Daly Braxton The DAMG Family roster includes identical twin brothers Craig and Christopher Reeves of V.I.P. Sound Circle pka "Double Dose" (some even call them"Supermen") who head the DAMG Production Team. These phenomenal producers are skilled in producing music for all genres. They are all donating from their projects to help keep schools and domestic violence facilities and homeless shelters open across the country.
As a team, their mission is to help strengthen enrollment and educational enrichment programs in communities and schools across the country, with brand new innovative ideas and incentives to help parents, teachers, and counselors capture the attention of at risk teens and youth in foster homes. We will keep their focus and attention on getting good grades, staying in school and clear from drugs, gangs, and prison. D.A.M.G. has new innovative ways of enhancing sports, music, and failing liberal arts programs across the country, through positive outlets and events involving entertainment and liberal arts.
For booking information or appearances please call DAMG offices directly at (414)-607-0157.
###