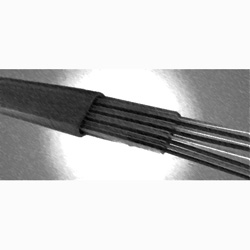 Torino, Italy, June 18, 2008 --(
PR.com
)-- Belconn announces availability of latest
OptoComb
optical riser cable for FTTH vertical cabling application.
Thanks to its patented OptoFlat technology design, OptoComb cable requires no optical splices to carry the optical circuit to the subscriber, with the benefit of reducing installation time, costs and network overall reliability.
"Star" networks with tens of individual fibre cables or vertical backbone networks employing distribution boxes, splices, pigtails, adapters and connectors are banned forever.
With OptoComb vertical riser cable, optical circuits are individually available at each multi storey floor and can be carried directly to the subscriber outlets.
Nothing can be easier than that.
###