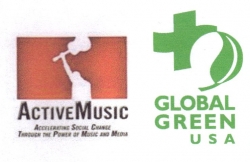 Corte Madera, CA, June 21, 2008 --(
PR.com
)-- A one-of-a-kind, Baldwin environmentally "green" baby grand piano, master-crafted from sustainably-forested wood, played by Art Neville and played and signed by Fats Domino and other celebrity musicians and artists, is being auctioned live on the ActiveMusic Web site,
www.activemusic.org
, the organization announced today. The auction proceeds will benefit Global Green USA's "Rebuild New Orleans Green" Project in the Holy Cross neighborhood of New Orleans' 9th Ward, previously, home to a number of artists and musicians, recently receiving exposure in the Hot Boys' music video among other songs.
The auction, managed by the non-profit ActiveMusic, goes live tonight, Friday June 20th, on the ActiveMusic Web site,
www.activemusic.org
and will continue through July 4, 2008. As an alternative, bidders may send an email bid directly to ActiveMusic at
active-auction@activemusic.org
"ActiveMusic is very excited to auction this fabulous and first-ever 'green' piano, a true collectors' item and irreplaceable gem, to support Global Green USA's green and sustainable rebuilding of New Orleans' neighborhoods hardest hit by Hurricane Katrina," said Susann McMahon, Founder and Executive Director of ActiveMusic. "It is truly fitting that the auction winner of this green piano, played and signed by Fats Domino who lives in the 9th Ward, will be instrumental in the green resurrection of this distinctive neighborhood."
The piano, generously donated by the Baldwin, has also been signed by Dr. John, Ray Brown Jr., Dr. Lonnie Smith, James "Fathead" Newman, Sophie B. Hawkins, Melba Moore, James Moody, Freda Payne, Paul Williams, Terry Gibbs, and others.
Electric guitars, donated by Gibson, Ibanez and Fender have been autographed by Buddy Guy, the Fabulous Thunderbirds, Taj Mahal, George Benson, T-Bone Burnett and other leading musicians, will also be auctioned to benefit Global Green USA and programs promoting environmental conservation, health, social justice and education supported by ActiveMusic.
The green piano is currently on display at the Four Seasons Hotel in Westlake Village in Los Angeles, and photos are available on the ActiveMusic Web site.
To learn more about Global Green USA's work in New Orleans and the Ninth Ward: Please visit
www.globalgreen.org
.
About ActiveMusic: ActiveMusic, whose mission is "Accelerating Social Change through the Power of Music and Media," is a non-profit production and media event company that raises money for effective non-profits that support environmental, health, social justice, and educational programs. ActiveMusic provides resources and expertise to produce events for non-profit organizations by producing live concerts, artist receptions, and outdoor events (
www.activemusic.org
).
###