Blogs Debut on BankInfoSecurity.com and CUinfoSecurity.com
BankInfoSecurity.com and CUinfoSecurity.com announce the debut of five new blogs targeted at banking/security leaders.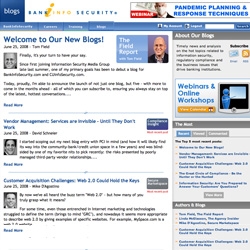 Princeton, NJ, June 26, 2008 --(
PR.com
)-- Information Security Media Group (ISMG), publisher of BankInfoSecurity.com and CUinfoSecurity.com, announces the debut of five new blogs targeted at banking/security leaders. The web-based editorial offers unique insights on critical banking, compliance and security matters, allowing site subscribers to supplement their regular news sources with invaluable insider perspective.
The exclusive blogs debut Weds., June 25, on BankInfoSecurity.com and CUinfoSecurity.com. [
blogs.bankinfosecurity.com
]
In the financial services industry, timely news on current events related to information security, regulatory compliance and the business issues that drive banking institutions is absolutely critical. Now, online blogs present a unique opportunity to provide near-real time analysis of these important issues – a monumental step beyond traditional print editorials that run once a day, or more likely, weekly or monthly. In addition, the popular, interactive forum provides authors with the chance to offer informed opinions, and subscribers with a chance to pose specific questions and open discussion lines that most directly impact their own business.
ISMG blogs are architected to offer a unique take on the industry, narrowing in on issues that are highly relevant not only to banks, credit unions and financial services organizations, but to all businesses that must deal with risk management and information security issues. Topics covered range from current risks such as identity theft, fraud and phishing to technical strategies such as emerging technology, web security and compliance tactics – along with opinions and insight from those who have spent their careers in information security, risk management and finance.
"We've seen the shift from brick-and-mortar banking to 100% virtual or Internet-based banking, and through it all one thing has remained paramount for any financial institution – customer trust. Customer trust, confidence and brand recognition are things any business must deal with, and the banking industry has something to teach other businesses as the finance industry is often under very tough scrutiny," says Mike D'Agostino, Marketing Manager at Information Security Media Group (ISMG). "While our B2B websites focus more on the risk management and information security professionals at true banks and credit unions, our blogs website extends the discussion outside the banking industry and will enable others to get involved. Our new blogs initiative really affords us, and our users, an opportunity to connect in a way that is new for the banking industry - we can get more personal and have features that let us and our users interact more, which ultimately creates an honest and truly unbiased community."
What's more, these blogs cover a variety of perspectives, including:
· The Agency Insider: Linda McGlasson, Managing Editor of ISMG, translates guidance from government agencies and regulators into actionable advice.
· The Field Report: Analysis by Tom Field, Editorial Director, reveals what's happening in U.S.-based banking institutions – their breaches, botched robberies and security successes.
· Secure Marketspace: The security and privacy concerns of consumers and how those concerns impact financial institutions are examined by Mike D'Agostino, ISMG Marketing Director.
· Information Technology Risk Management: Sanjay Kalra, veteran banking/security expert, makes sense of risk – understanding, managing and transferring it as necessary.
· Compliance Insight: A practitioner's view of the ever-changing regulatory landscape is provided by banking/security consultant David Schneier, from the inside out.
Recent blogs include: "PCI Compliance: Time for Banking Institutions to Pay Attention"; "Information Security: Are You Prepared to Answer Your Customers' Questions?"; and "Customer Accountability: Where does it Start?".
Next, ISMG plans to offer guest blog spots to audience members, as well as sponsored submissions from industry vendors.
The introduction of these blogging resources represents an evolutionary step for ISMG, which has grown considerably in scale and scope since its inception in 2006. Among noteworthy accomplishments:
· New Look -- BankInfoSecurity.com and CUinfoSecurity.com debuted new, content-driven designs in Nov. 2007 – a move that has spurred exponential growth in site traffic and subscribers;
· New Research – The State of Banking Information Security 2008, a major look at trends at U.S. banking institutions, premiered earlier this year in a multimedia suite of podcasts, webinars, reports and articles. A subsequent survey, Identity Theft Red Flags Rule Compliance, is live now, and the State of Banking Information Security 2009 survey is being drafted for release later this year.
To see the new BankInfoSecurity.com blogs:
http://blogs.bankinfosecurity.com/
About ISMG:
With members representing over 13,000 financial institutions, and regular input from federal banking agency officers and their own board of advisors, ISMG delivers webinars and online training that is focused, timely and -- most important -- useful. Presented by actual practitioners and industry experts, each presentation (ranging from 90 minutes to two-plus hours) delivers how-to and practical information on the inner-workings of information security programs at financial institutions.
For more on ISMG's training offerings, view the webinar calendar:
http://www.bankinfosecurity.com/webinarsCalendar.php
###
Contact
BankInfoSecurity.com
Mike D'Agostino
609-356-1499
www.bankinfosecurity.com

Contact