Wow Time Waits for No One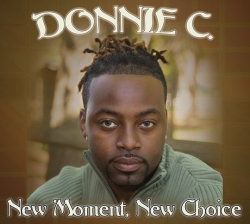 Murfreesboro, TN, July 04, 2008 --(
PR.com
)-- In a world of noise it is refreshing to hear the music of Donnie C, An American Nu-Soul Recording Artist who brings a unique approach to the R&B/Neo Soul and Gospel music genre. Native of Portsmouth, Virginia, Donnie C has learned that "in the face of no evidence, create." Performing music that brings a plateau of serenity to the soul and tranquility to the mind, listners engage on a journey through the foot hills of Donnie C's life and relates to where they either are or have been. Donnie C brings you the feel of Terence Trent D'arby, the intensity of Donny Hathaway and the vocal intonation of today's Dave Hollister, while not forgetting his gospel roots.
Music that makes you smile, music that makes you think & music that exudes happiness while promoting love in a positive way, Donnie C's freshman album New Moment, New Choice, illustrates the pain of life turned into an artistic masterpiece All On One Album. A breaking point in the music industry will be reached, when Donnie C officially releases the making of his album (New Moment, New Choice).
Donnie C was highlighted at the International Music Festival in Nashville, Tennessee in 2007 and has performed all over the country leading up to this official and memorable album release which has been long awaited by many radio stations and fans across the United States. This remarkable album proclaims This is Your "New Moment, New Choice" and heralds "Happiness Is Just A Step Away."
Donnie C, and his musical artistic abilities, will usher you, your mind and your soul into a secret place and bring your smile back and release positive energy. This astonishing artist and his words have awaited its presence in the music industry and world long enough. Now is the time for them to be heard. Be a part of this positive movement by going to donniecsoul.com and become a member of Donnie C's Official Fan's list today.
Get your Copy Today. Donnie C Debut Album, New Moment New Choice
On iTunes, Besty Buy, Amazon.com, & Rhapsody
www.myspace.com/donniecsoul
###
Contact
Donnie C
Eugene Anderson
919-941-7873
http://donniecsoul.com

Contact