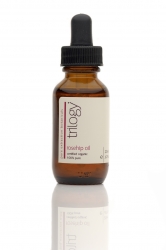 New York, NY, July 08, 2008 --(
PR.com
)-- A rose is a rose is a rose…except when it transcends its natural simplicity. In the hands of Trilogy, the wild-grown rose elevates to become the power behind this multitasking line of advanced natural skin and hair care. The small New Zealand brand making big waves in the cosmetic world is sold exclusively in the U.S. at Beautorium, the online marketplace for the planet's premier collection of natural and organic beauty care with exclusive deals from around the world.
Hand-pressed and high-performance, Trilogy is packed with the power of 100% Certified Organic Rosehip Oil, which:
- Is most effective as a daily moisturizer for face and body, softening and hydrating all day long
- Improves the skins barrier function by delivering lipids that are undetectable on the surface of the skin, which gives protection from dehydrating environmental conditions
- Rebuilds damaged skin with essential fatty acids of roses
Named for the triad of their core beliefs – simplicity, vitality and purity – Trilogy is a sweeping collection of 28 products, including moisturizers, cleansers, body lotions, everything balm, shampoo, conditioner, and the like. Trilogy combines the unique benefits of rosehip oil and the finest pure plant extracts into each and every product. Trilogy infused rosehip oil into most of their products because it has been clinically proven to:
- Improve skin moisture by up to 44%
- Reduce the appearance of wrinkles by up to 23%
- Improve skin smoothness by up to 21%
Founded by New Zealand sisters Sarah Gibbs and Catherine Wells, the next generation of cosmetic superstars, Trilogy is fast becoming one of the largest natural-product brands in the world. They believe in and practice Fair Trade, and their solid yet simple ethics translate into solid yet simple products that go beyond standard skincare.
And as long as we're speaking in threes, the three top-selling Trilogy products at Beautorium are: organic rosehip oil, cream cleanser, and rose hand cream. The entire Trilogy line is available at
www.Beautorium.com
, the official Trilogy outlet, and the only outlet in the Unites States to do so.
For more information please contact Andra Mielnicki, Lindsay Reiter or Linsey Tilbor at Behrman Communications, amielnicki@behrmanpr.com / lreiter@behrmanpr.com / ltilbor@behrmanpr.com, or (212) 986-7000, or log onto www.beautorium.com.
About Beautorium
An online marketplace for the planet's premier collection of natural and organic beauty care, the beauty of Beautorium is its natural simplicity. It takes the guesswork out of hunting for the truly natural, truly organic, good-for-your-skin beauty ware so all that's left is the gathering. The beauty marketplace at large is saturated with "organic" products and it's hard to know what's real and if it works. Having done the homework, Beautorium has hand-picked and carefully screened each and every brand it offers to ensure consumers get the most out of a positively organic experience.
###