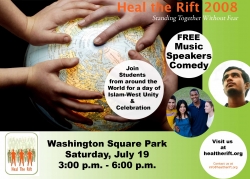 New York, NY, July 12, 2008 --(
PR.com
)-- The student-run organization, Heal the Rift, announced the lineup for its summer unity event, Heal the Rift 2008, to be held on July 19 in Washington Square Park from 3:00 to 6:00 pm.
The event, organized to generate an atmosphere of new optimism and understanding between the Islamic World and the West, will bring together a diverse set of speakers and performers from around the globe.
Those performing include Amish Dar, the Pakistani born guitarist/vocalist from Har ik Zehr; Zerobridge, a band made up of American and Kashmiri members; and Ippazzi, a group that believes in celebrating diversity and uniting culturally distinct sounds.
Their music will be complemented by Azhar Usman, a Chicago-born Muslim Comedian of Indian origin, whose sole goal is to promote a better understanding of Islam and Muslims through comedy.
THe HTR lineup also includes scholars from academic and religious realms, including Dr. Ali Yurtsever, the President of the Rumi Forum, Arya Zarrinkelk, an Iranian-American activist and the Global Development/Peace and Security Program Associate at Americans for Informed Democracy, and Omar Ashmawy, a Pentagon prosecutor, US Air Force Officer, and outspoken critic of fundamentalist Islam. Expedition leader, Lance Trumbull, will deliver a speech on his experiences organizing the first joint Palestinian-Israeli peace climb of Mount Everest. New York arts activist Robert Galinsky will emcee the event.
In the past, the peaceful majorities from both civilizations have spoken, but they have not been heard. Suspicion, polarization, and incessant fear-mongering is turning the "clash of civilizations" myth into a self-fulfilling prophecy by exaggerating our differences, and disregarding our shared values.
Heal the Rift 2008 is an opportunity to reject the status quo and foster a new climate of understanding in which peace and coexistence are possible.
On July 19, college students from around the world will lead the way into a better future by publicly pledging never to allow the strength of their transnational relationships to be sapped by the cynicism of global politics.
###
Heal the Rift was an idea thought up by four college students, two from the West and two from the Muslim world. These four friends refused to accept the status quo of increasing polarization between the West and the Muslim world, and resolved to help end the downward spiral of distrust that divides their two cultures. HTR is a simple, but powerful concept: to bring representatives from both civilizations together in a public forum of truth, respect, and reconciliation.