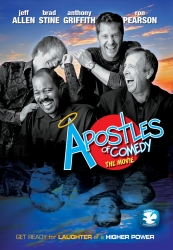 Nashville, TN, July 23, 2008 --(
PR.com
)-- (Nashville, TN) – "Someone once said, 'comedy is not funny,' and they're right," says comic Ron Pearson, one of four comedians to star in the new film, Apostles Of Comedy: The Movie, set for release September 9, 2008 from First Look Studios. Co-star and controversial social commentator Brad Stine agrees. "Everybody endures life," says Stine. "Some people deal with their problems with drugs, alcohol, or sex – we chose comedy to mock our pain."
While their comedy is showcased at length in Apostles of Comedy: The Movie, the lives of these four award-winning comedians are also explored. In documentary fashion, the comedians are shown at home with their families, as well as in unrehearsed conversations with each other behind-the-scenes. Each comedian has a unique background and style of comedy, yet Jeff Allen, Brad Stine, Ron Pearson and Anthony Griffith share a common thread – they are all family-friendly in their approach, keeping their comedy free of raw language or crude themes, but without losing their edge.
"We chose some of the best comedians in the business," says Sisselman, who has produced comedy shows for over 26 years and worked with performers such as Jay Leno, Jerry Seinfeld and Tim Allen. "But we also chose comedians who specifically do comedy that appeals to all ages, something that the whole family could sit down and enjoy together." To produce Apostles of Comedy: The Movie, Sisselman teamed up with Emmy-nominated producer and Christopher Award winner Mitchell Galin whose credits include Sci-Fi's Emmy award winning miniseries Dune; CBS' miniseries A Season in Purgatory; ABC's Stephen King's The Langoliers and Stephen King's The Stand, projects that netted nine Emmy Awards.
All four comedians in Apostles of Comedy: The Movie have honed their crafts in comedy clubs and the secular entertainment world, but because each shares deep religious beliefs, their comedy is non-offensive, filling a void for families. Indeed, family entertainment has made a comeback in recent years. The Chronicles of Narnia movies have grossed nearly one billion dollars worldwide; the success of The Passion of the Christ stunned Hollywood; and the popularity of wholesome television shows and movies such as Hannah Montana and High School Musical reveals a marketplace hungry for entertainment that the entire family can enjoy.
"We wanted to produce something that was counter-culture; something that would not only be funny, but move people emotionally," says Jeff Allen, who has been seen on Showtime, Comedy Central, VH1, HBO, among others. Allen starred in a sitcom pilot on PAX-TV entitled "Happy Wife, Happy Life," and authored the book My Life as a Bystander.
Brad Stine, known for his edgy social commentary, has been featured on CNN, Fox News, MTV, New Yorker Magazine, as well as Evening at the Improv. Emmy-Award winner Anthony Griffith has been a frequent guest on The Tonight Show as well as HBO, Comedy Central, and The Bernie Mac Show. Griffith says he regularly receives compliments from his secular counterparts who use harsh language or vulgar subjects to get laughs.
"I've been in clubs where other comics have come up to me and said, 'We wish we could do what you do,'" says Griffith. "When you stay true to yourself, it shows. Bill Cosby used to say, 'Please the people who like you and don't worry about the others.' I've tried to just stay true to my beliefs and as I result, I'm comfortable in any setting."
Griffith, who shares very personal tragedies for the first time on Apostles Of Comedy: The Movie, lost a young daughter to cancer and was later himself diagnosed with MS. During one particularly poignant conversation in the film, he talks about how tragedies have affected his faith. "Life is like a novel," he states. "You laugh, you cry, but you want to keep turning the pages because you want to know how it ends. You're the main character and God is the author."
Ron Pearson is long-time friends with Griffith (Anthony is godfather to Ron's daughter), and like Griffith, has made a name for himself appearing on various television sitcoms such as Malcolm & Eddie, The Drew Carey Show, That 70s Show, The George Lopez Show, among others. Pearson was also drawn to the Apostles Of Comedy: The Movie project because of its generational appeal.
"There really is a void out there of comedy that is uplifting," says Pearson. "This film features quality comedy that is not dumbed down at all, but is also something the entire family can enjoy. There is a culture war going on for the soul of this country right now. And while we may not win every battle, hopefully quality projects like this will stand-up against any secular counterpart out there."
A tour featuring the four comedians is in the works, and Jeff Allen hopes the tour becomes more than just a night of comedy.
"Comedy has a way of breaking down barriers and becoming an outreach to people," says Allen. "We want people to laugh and have a great time, but we also want people to be touched on a spiritual level."
Apostles Of Comedy: The Movie will be released nationwide on September 9, 2008 by First Look Studios. First Look Studios is a leading independent studio which includes its theatrical, home video and television operations. The studios' CEO is Trevor Short and Dean Wilson is COO. The company is owned and operated by First Look Holdings, LLC.
For a sneak preview of the DVD, visit: www.ApostlesofComedy.com.
###